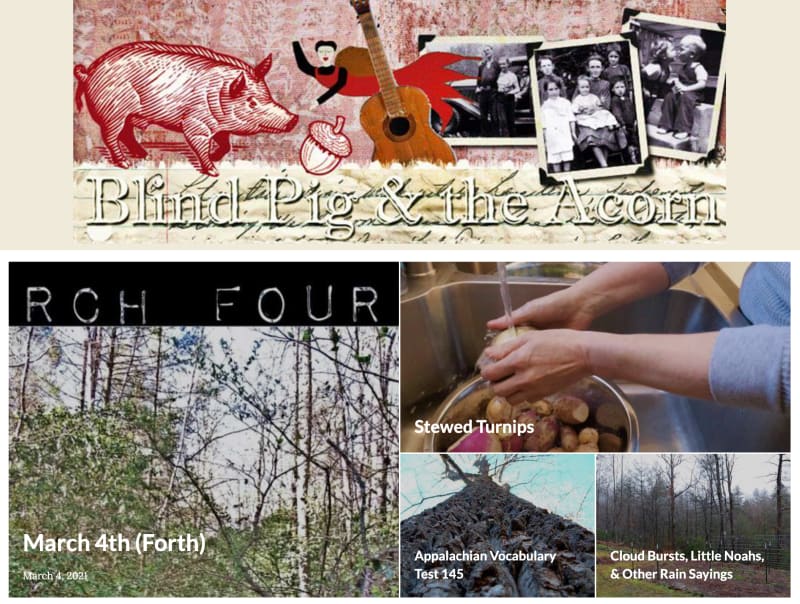 Granny wasn't the only one who had a birthday over the weekend, Blind Pig and The Acorn turned 13.
Where did the last 13 years go? It seems like only yesterday I stuck my toe into the big pond of bloggers on the interweb.
From the beginning I had a strong sense about what I wanted to do—which in a nutshell was to celebrate Appalachia.
There's been many twists and turns over the years, but I've never strayed from the endeavor to preserve and celebrate Appalachian Culture and Heritage.
It's hard to believe I've been sitting at my computer for over a decade typing out my feelings, thoughts, and findings about Appalachia.
Lots of things have changed in those years.
There's been a least four computers if not five since the one I started blogging on.
I gave up my office at some point during the writing for Chatter to have her own bedroom, so now I type in a cramped space in my bedroom. After I moved my office I moved the entire blog from Typepad to WordPress—whew that was an ordeal!
My readership has reached a point I never dreamed it would. I remember when I was excited to have four readers, two of whom were friends from right here in Cherokee County and the other two were Paul and Miss Cindy 🙂
We've uploaded over 400 videos to Youtube, that's a lot of music and culture documentation. And thrilling to us, Pap is in many of those videos. In the earlier videos neither girl played an instrument and they both sang lead instead of harmony.
Of course there's also the physical changes.
My nephews who showed up in the earliest videos are both married and gone from home and one of them has two of the sweetest little girls you ever saw.
Mine and The Deer Hunter's daughters who used to throw mud and argue about making music are now fine adult women with lives full of music and creativity.
Pap's gone from us never to be forgotten.
The Deer Hunter, Paul, and I are all older, grayer, and I think wiser or at the very least more experienced with this ole world.
I could go on thinking about changes that have taken place in the last 13 years, but there's a lot of things that haven't changed since I started blogging.
My great love and appreciation for Appalachia. The people, music, food, folklore, culture, language, towering mountains and deep dark hollers—I still love it all.
The great love shared in our family hasn't changed one iota, in fact its probably grown stronger.
You Blind Pig readers haven't changed either. There may be more of you, but the fact remains that you ride beside me on this journey of celebrating and preserving Appalachian heritage and culture and cheer me on at every point.
I'm pretty sure Blind Pig and The Acorn readers are the best blog followers in the blogging pond.
Tipper
Subscribe for FREE and get a daily dose of Appalachia in your inbox