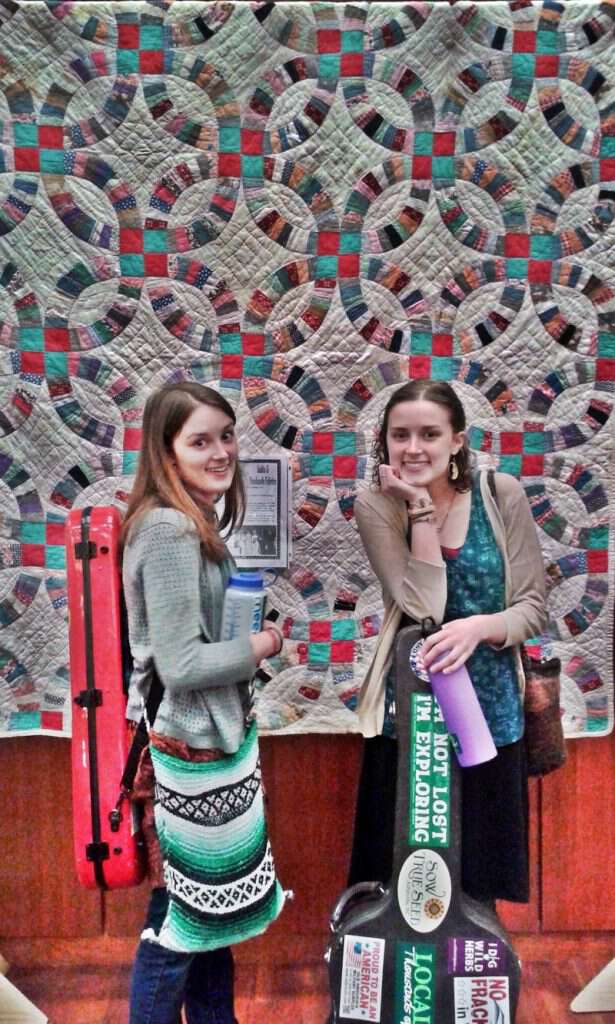 We had a great time at the Georgia Mountain Storytelling Festival and we thank all the Blind Pig readers who came out to see our show, you really made us feel special. During the festival quilts are displayed throughout the entire banquet hall. Attendees can go around and admire the handiwork and also read the 'story' of each quilt. On the first day of the festival we wandered around and read about each quilt as went. We were both pleased and surprised to find quilts made by Blind Pig Reader Ethelene Dyer Jones. The girls are posing in front of one of Ethelene's beautiful quilts in the photo above.
David Holt and Josh Goforth played before us at the festival. Wow what an amazing show they put on! If the duo comes to your area they are a must see attraction. Fantastic music, singing, and storytelling that will make you laugh till tears run down your face.
Between listening to David's stories related to his musical journey and seeing Blind Pig Readers spread throughout the audience I headed home thinking about the music I've shared on the Blind Pig and the Acorn since I first started eight years ago.
I knew without looking back through the archives the first song I ever shared was our version of Simon and Garfunkle's El Condor Pasa. But I was surprised that I shared it very close to this day eight years ago. I published my first Pickin' and Grinnin' video on March 29, 2008.
Chitter filmed it with her small hand held camera, you could have probably guessed that by the poor quality of the video. I remember after we watched it we told her she must have been trying to make it look like a rock band with all the moving back and forth. And we still tease her abut filming the feet! When I watch the video today I can't believe how young the boys (my nephews) were, I think Mark was still in middle school.
We filmed the song again in 2013. By then we had a video camera and the boys had turned into men.
The music of the Blind Pig and The Acorn has changed much in the 8 years since I started the blog. My nephews almost always showed up in those early videos. Chatter and Chitter only showed up when we could tie them down long enough to sing one song without too much arguing and fussing.
Gradually the girls began playing instruments themselves and began to take more of an interest in the music we were making in Paul's kitchen. The nephews headed out into the world to make their own way. With one living in Connecticut and the other in Texas they rarely get to play with us these days. I can't see the girls moving off as far as the nephews did, but who knows what path their lives will take and whether they'll always be able to make music with us. Whatever the future may hold, I'm glad the girls and my nephews have a warehouse full of stories and memories about making music with their uncle, their aunt/mother, and their Pap that they can pull out and tell to each other or to anyone else that will listen.
AND I'm thankful you've let me share the music we make with you!
Tipper