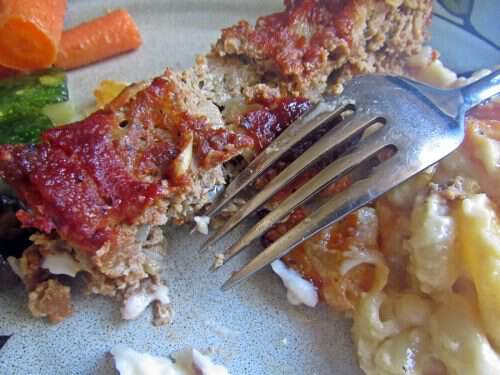 There are tons of meatloaf recipes. Some are super simple and some call for all sorts of fancy ingredients. The meatloaf recipe I use comes from the cookbook Cook and Love It.
Way back in the early 80s when Pap had his triple bypass surgery a local lady who was staying at the same Atlanta hospital gifted Pap and Granny with the cookbook.
I'm not sure Granny ever used it much, but when I first started learning to cook it was the place I went first to look for new recipes. After I was married Granny said I might as well take the cookbook with me since I was the one who used it the most.
This particular meatloaf recipe was submitted by Mrs. William Whitaker (Susan)
Tipper's Favorite Meatloaf
• 1 pound hamburger meat
• 1 slice of bread crumbled
• 1 onion chopped
• 1 egg
• 1 teaspoon salt
• 1 teaspoon pepper
• ¼ can tomato sauce (8 oz)
• 1 ½ tablespoon vinegar
• ¾ can tomato sauce
• 1 ½ tablespoon brown sugar
• 1 tablespoon Worcestershire sauce
• 1 teaspoon mustard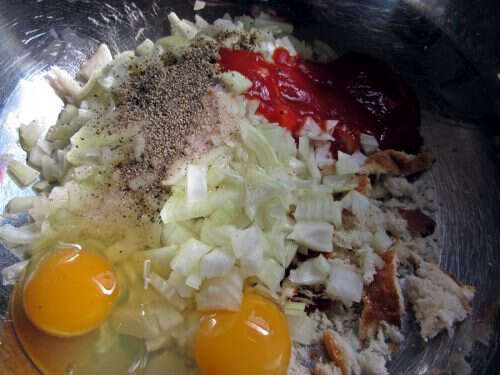 Mix the first 7 ingredients together and put in a loaf pan. I line my pan with foil for easier clean up.
Mix the rest of the ingredients together and pour over meatloaf.  Take a spatula or case knife and help the liquid seep down into the cracks along the side and give the middle a poke or two as well.
Bake at 375° for 1 hour and 15 minutes. I changed the cooking temperature from the original recipe to better suit my oven somewhere through the years.
Towards the end of the cooking time I pour off the grease that has ponded in the loaf pan and then put the pan back into the oven to finish cooking. This may not be necessary – it all depends on the fat content of the hamburger meat you use.
This recipe is easily doubled. I almost always double it so that we have leftovers to take for lunch during the week.
As I said there are so many different meatloaf recipes, I hope you'll leave a comment and share yours with us!
Tipper