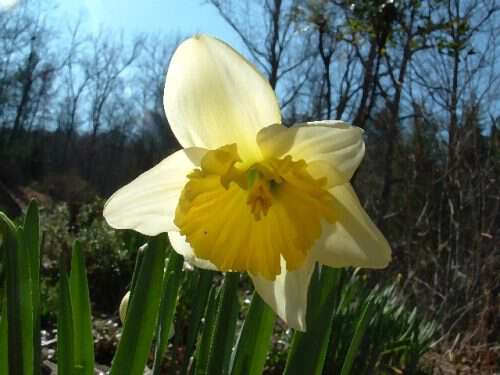 The 1974 Winter Edition of the Foxfire Magazine contains a compilation of newspaper articles written by Harvey Miller. At the time of the magazine's publication Miller's weekly column had been around for sixty years and was till being published in the Tri-County News located in Spruce Pine, North Carolina.
March 1970
"It does not take a ventriloquist to throw their voice on Pigeon Roost Creek. Probably most everybody in this hilly country can do it. But voices will not echo at every place and weather conditions have something to do with it. At spring of the year and just after a rain shower when the sky gets clear is a good time for your voice to sound again. Away a very good distance from a barn or with a little low ridge in front of you are also favorite places for your voice to sound twice. Besides your voice echoing a sound again, any kind of a noise will do likewise. Like chopping wood with an axe or driving stakes with a heavy sledge hammer. The noise will roar loudly on a nearby mountainside, and then the noise will sound like is is coming back to you. It is said that many a person has become lost in the hilly country because of the echoing of too many voices. It is recalled by old timers that when people first called to each other in the wooded areas, they were only a short distance apart, but by their voices echoing they became farther apart.
We have passed from the day when grandmas smoked a corn cob or clay pipe and their smoking tobacco was home growed strong tobacco. In this hilly country we are also fastly fading from the time when you burnt wood in an open fireplace. Now, in the most modern homes the heat comes from the furnace located in the basement. In the long ago I had heat where I could always see the fire burning in the open fireplace. It may not have throwed off as much heat as the stoves do, but here is something funny that I have experienced myself. Now listen: I have sat for hours and looked into the glowing embers and viewed many pretty moving faces, as well as other kinds of objects, such as trees, etc. The pictures in the fire was my only TV in those days. It was not a silent picture, as the crackle and pop at intervals of the fire gave a more live touch to the subjects. If you have never seen the moving scenes in the fire I am sure you have really missed something."
---
I've always been fascinated by how sound can travel in unexpected ways. As kids when we found a place that had an echo we took turns screaming silly things to hear them come back to us in a few seconds. I love to hear The Deer Hunter chop or beat on something outside and listen to the rhythm bounce back to us from the ridge across from the house.
I also love to look deep into the flames of a fire as Mr. Miller described. With Spring of the year just around the corner the time for fires is almost over until sometime next fall.
Jump over to the Foxfire website and poke around. They are still publishing the magazine and those wonderful Foxfire Books too.
Tipper
Subscribe for FREE and get a daily dose of Appalachia in your inbox