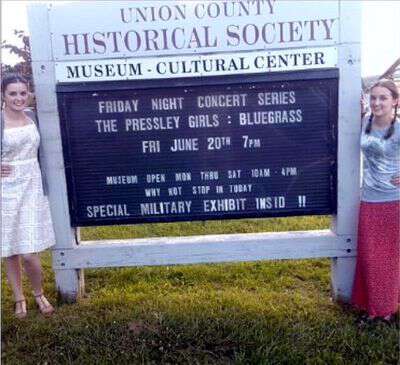 Sending out a BIG thank you to everyone who came out to see The Pressley Girls last night. And a heartfelt apology to anyone who didn't get in to see The Pressley Girls.
We arrive fairly early to all of our performances-you know it takes a little while to tune up and get situated. When we got to the courthouse yesterday evening, they were already turning people away-the place was PACKED! Seems The Pressley Girls have gained a following.
For those of you who didn't make the show-here's a little taste of The Pressley Girls.
A few of you might be wondering if Chitter ran into General Lee on this visit to the Historic Union County Courthouse. She said the crowd probably scared him off so she didn't even look for him. But I did see her blow his picture a kiss as we left.
Tipper
p.s. Ridgeline TV was there to film the whole show-so hopefully you'll all be able to see the show once they air the episode.
Appalachia Through My Eyes – A series of photographs from my life in Southern Appalachia.