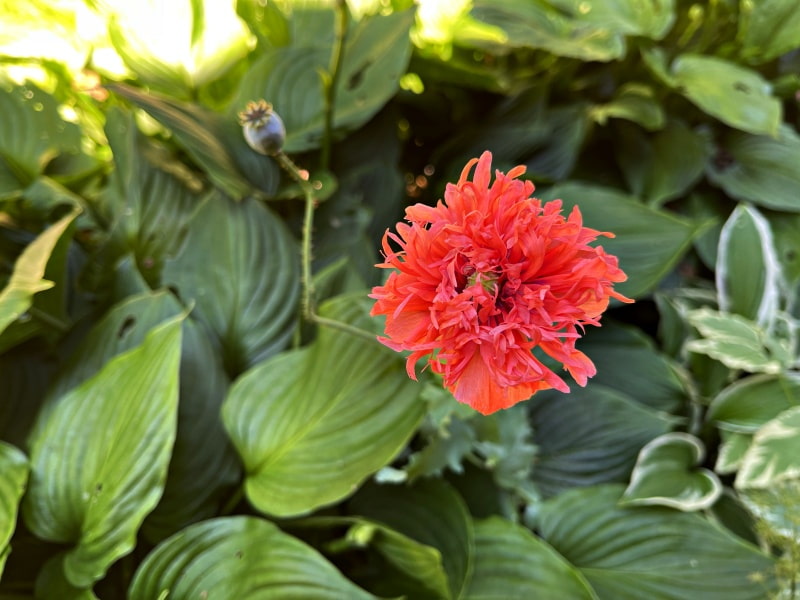 About a week ago I was coming around the side of the house when a splash of color caught my eye.
We have a covered porch along one side of our house, underneath the porch is a long flower bed which contains mostly hostas. There are a few varying colors of astilbes sprinkled in along with a few geraniums and lenten roses. So not the most colorful bed you've ever seen, that's why the splash of color caught my eye.
I went over to investigate and was surprised to find the flower in the photo above. I thought "What in the world is that?" I knew I hadn't planted anything new in the area, and truthfully the hostas have grown so large over the years that I can't believe anything could find enough sunlight to grow through their massive green leaves.
Since we were all outside working I got everyone to come look at the beautiful flower. None of them had a clue where it came from either.
As I went about my way the thought of the flower kept bugging me. There was no doubt in my mind that it was beautiful but how in the world did it get there. Hmph I thought it must have been a bird is all I know.
Once I got back to work in the garden I realized the flower reminded me of something, but wasn't sure what it was. A little while later it hit me—it reminded me of a small blooming cactus Chatter had sitting on the porch railing last summer.
I ran back and examined the flower closer and noticed the stem had spikes similar to the ones that can be found on a cactus. I called the girls back to the flower and said "I figured out the only reasonable explanation for it being here. A seed fell off that cactus Chatter had last summer and this is what grew from it. Maybe it was a hybrid plant and the seed reverted back to this leggy specimen or maybe it grew so long and leggy because it was reaching for the sun."
A short time after we noticed the flower every petal fell off of it. Chitter had been keeping an eye on it and she said "Momma you won't believe it but that flower it's totally gone all the petals fell off at once." I said "Well it sure was pretty while it lasted." In a couple of days Chitter noticed a brand new bloom on the flower. Like the first one the bloom seemed to spring forth from the ground overnight.
I'm almost positive the flower came from Chatter's cactus, but however the beauty showed up under my porch I'm glad it did.
Tipper
Subscribe for FREE and get a daily dose of Appalachia in your inbox