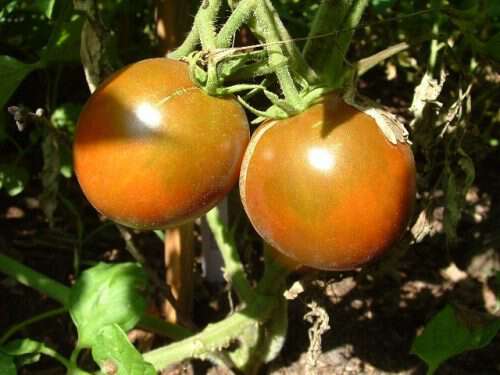 I've done a little homework since Warren ask me if I worried about my heirlooms cross pollinating. I feel a whole lot better about the situation too.
First off-if you're not planning on saving your seeds to replant-you don't even need to read the rest of this post. Just continue to buy heirloom plants each year-and feel totally safe planting them as close to each other as you want too.
If you do plan on saving your seeds from year to year-these are the questions you need to ask yourself:
is the heirloom a treasured family variety passed down for the last 100 years?
do you think the variety is very rare and only exists in a handful of gardeners?
do you plan to sell the seeds?
would you only be satisfied with an exact carbon copy of the heirloom tomato?
how devastated would you be if cross pollination did occur?
I asked Keith Wood, my County Extension Officer, for his advice on the matter-this is what he said:
"If you let the seeds ferment in water a few days it will protect against bacterial canker.  It also dissolves the gelatinous coat which contain germination-inhibiting substances.  Tomatoes are self pollinating. The probability of tomatoes cross pollinating is about 2%.  If you want to be sure of them not cross pollinating, plant them at least 10 feet apart."
Next I asked the nice folks at Appalachian Seeds what they thought about the issue-this is what they said:
"So the news is that tomatoes are self pollinating with a minimum of cross pollination occurring…usually the wandering bumble bee. They definitely can cross pollinate though. To be sure that this doesn't happen, folks usually isolate different varieties from one another. The isolation distance varies from 10′ to 1/4 mile depending on who you listen to. We isolate by 15′ and have virtually no crossing. To be absolutely sure you could bag the blossoms (making sure that they pollinate themselves by tapping, jiggling or whatever…to make sure the pollen falls from the anther to the stigma of the flower) Try the seeds you saved next year and see what you get. You know even if they cross you might get something wonderful!"
I also checked out links a few of you sent me (thank you!!). Most of the informational sites stated cross pollination can happen-most agreed it happened between 2 and 5% of the time. Some sites suggested you should plant different varieties at least 1/4 a mile apart-others said 10 feet would be sufficient. While other sites seemed to think the only way to get pure seed was to bag blossoms to ensure cross pollination couldn't happen. At least one site said-the large heirlooms are more likely to cross-than smaller tomatoes.
How I feel about the issue as it relates to me:
I'm certainly not growing heirlooms that are rare-and while I do want the same tomatoes I grew this year-as long as my future tomatoes tasted good and produced good-I don't think I'd be too sad if they were a little different.
I might be able to plant a few varieties 10 feet apart-but no farther-and even that would take some extra planning.
I could narrow my varieties to just 2 but I don't want to do that-yet I'm not willing to give up starting my own seeds either. Since I saved seed before I knew about the cross pollination issue-I'm just going to go for it and see what happens. I will attempt to separate my plants next year to the extent that I can-and I do hope they all stay true to the variety I saved them from.
JD left me an encouraging comment about the issue on Facebook-he said I should look at it like this-in a few years I may be growing Tippers Toms- a brand new heirloom variety of my very own.
Hope you found the information I gathered helpful.
Tipper