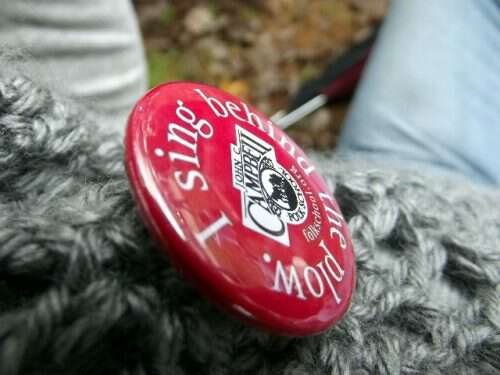 I grew up going to the John C. Campbell Folk School's Fall Festival-most years Pap performed and I usually tagged along. Sometimes it was on Sunday-sometimes on Saturday-didn't really matter which day we went-it was fun to go look at all the crafts and enjoy the music.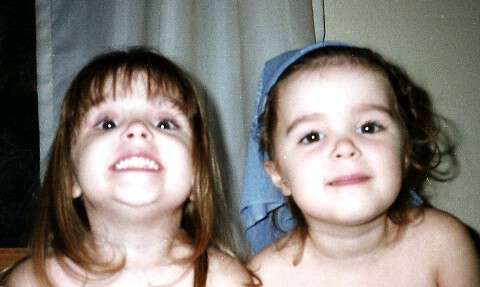 When the girls were toddlers taking them out into a large crowd of people by myself wasn't something I was comfortable with. Might have had more to do with the girls behaving like banshees than there being 2 of them.
The folk school's fall festival was the first place I took them on my own-knowing ahead of time there wouldn't be anyone to help me keep up with them. Before we went I told them they had to mind me-told them they could not let go of my hand not even for a minute.
The trip to the fall festival was great-they enjoyed it-I enjoyed it-and their banshee alter egos never even showed up. Our only upset of the day happened on the way home. Chatter had her face painted at the festival-and Chitter decided she wanted her's painted too-just as we rounded the last curve on our road.
The success of the girls first fall festival-ensured we'd go every year-and we've not missed a single one since then.
When the girls were small the petting zoo was one of their favorite booths to visit. One year a lamb, that was the same height as Chitter, kept trying to sniff her neck. For weeks afterward, The Deer Hunter and I teased Chitter about what she kept hid under her chin.
The horse rides were also a favorite-at least for Chitter. The first year Chatter finally got up her nerve to try it-she got a pony that refused to move.
Fall festival was where the girls first saw clogging-one year after seeing the JCCFS Cloggers perform they decided they wanted to clog too.
This year's fall festival-will be the girls 4th year of clogging on the festival barn stage along with the rest of the JCCFS Cloggers.
As October approaches-it seems everyone in Brasstown gets jittery about the fall festival-the dancers all want their routines to be perfect, the musicians want their sound to be just right, the crafters and artists want their booths fixed just so with their best work shining through. And around the school grounds you can see folks working like busy bees-adding a new layer of mulch to the paths, sprucing up the flowerbeds, and laying out the booth areas. This year-I got an added dose of excitement-the John C. Campbell Folk School donated 4 fall festival tickets for me to give away on the Blind Pig.
I know all of you don't live close enough to attend-but for those of you who do-I highly encourage you to give it a try-it truly is a wonderful festival. Over the course of my life I've never been disappointed by attending it.
Want a chance at the free tickets? All you have to do is leave a comment on this post.
Giveaway ends on Friday September 24, 2010
Tipper