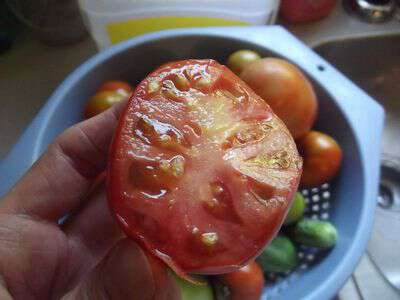 The first ripe tomato of the year causes a mini celebration for me and The Deer Hunter. This year the first ripe one we found was a Mountain Princess from Sow True Seed. Once you find the first ripe tomato, it's like they appear magically before you eyes every time you look in the garden you see another one peeking out at you.
This is the fourth year we've used our Tomato Hangers made by Kenneth Roper-and they are still going strong.
The more than abundant rain we've had this summer has hampered our efforts at taking care of the tomatoes like we should-as well as caused the tomatoes to grow as tall as small trees. In other words a few are sprawled over into the yard instead of standing securely next to Kenneth's handy dandy tomato hangers.
Papaw Tony says when he was boy they never staked their tomatoes-they just let them grow where they would.
Tipper
Appalachia Through My Eyes – A series of photographs from my life in Southern Appalachia.