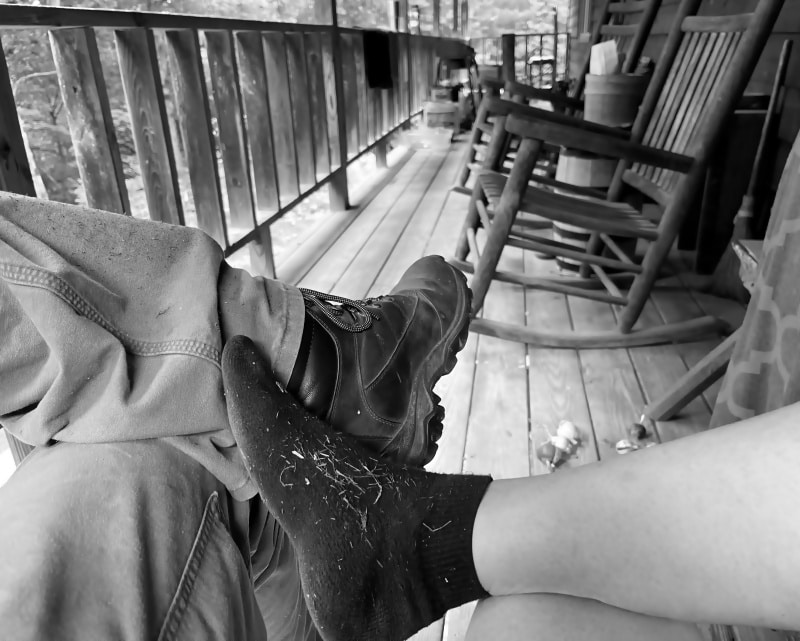 I feel such a sense of satisfaction at the end of long day of hard work. Last weekend we started at sunup and barely finished before the rain arrived in late evening. The Deer Hunter and I were both exhausted, but as we set on the porch swing we were pleased with all we accomplished.
The feeling reminded me of a time when I was a young adult.
One late fall day Granny had been digging potatoes and hadn't gathered them into the basement yet.
She yelled at me to come help her get the potatoes in before it stormed. We ran around like crazy gathering potatoes till we had them safe from the rain just as it began to fall.
Dirty and out of breath we smiled at each other in triumph. I told Granny I felt like we were living out a "Little House on the Prairie" story, getting the harvest in before the cold winter wind came blowing. She got the biggest kick out of me saying that and it was the first thing she told Pap when he got home from work.
We all used to kid Pap about his love of work. He was never one to sit around, until his health forced him to. Pap genuinely liked to work and by work I mean work hard. Granny always said he got it from his mother. She said Mamaw Marie was the workingest woman she ever seen.
During WWII Papaw Wade, Pap's father, was rejected for service due to a leg injury he'd suffered as a boy. So instead of going off to war, Papaw Wade went off to Newport News VA to work in the ship yards.
Pap's mother went to see Wade and left Pap in the care of his Grandmother Carrie.
One day Pap was helping Carrie in her flower garden when he suddenly said "I just wish you'd go ahead and die." Carrie said "Jerry now why in the world would you say something like that?" Pap said "Well then I wouldn't have to work in your flower beds no more."
Granny said over the years Pap's parents would tell the story about Pap and laugh.
When Granny told Paul and me the story about Pap we both said we couldn't believe he didn't like to work as a child since he loved it so much as an adult. Granny said "Well he probably would have liked it fine if they'd been working in the garden instead of the flower beds."
Tipper
Subscribe for FREE and get a daily dose of Appalachia in your inbox