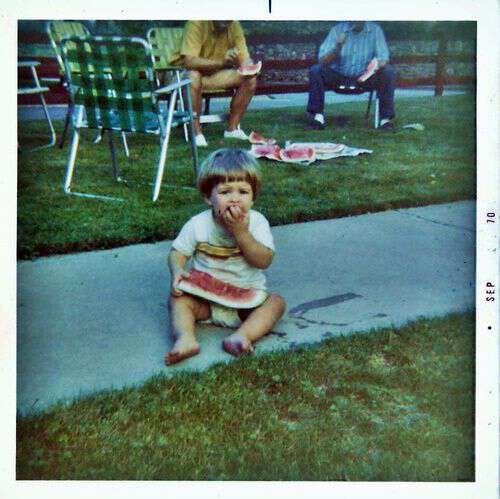 The Deer Hunter enjoying a slice of watermelon
I love watermelon. I always have, I mean what's not to love? My watermelon consumption is relegated to the months of summer and seeing a ripe waiting watermelon always conjures up the feeling of hot sun, family, creeks, and drippy elbows.
Granny and Pap loved watermelon too. There was always much excitement when Pap came home with a big watermelon. He'd take it to the creek and nestle it in the flowing waters of the Stamey Branch until it was cold. We'd all head out to the backyard and Pap would cut long slices for each of us. We'd pass the salt shaker around so that everyone could sprinkle on as much as they wanted and then we dug in! We might talk about the day or Pap might tell us a story about when he was just a boy eating watermelon or getting into trouble for eating ones that he shouldn't have.
Once we were finished we'd throw our rinds in the woods and head in to wash up. Granny would take any left over slices and cover them with aluminum foil and put them in the frig for whoever wanted them later.
I'm the only one in my house that likes watermelon, so these days I buy one and promptly cut it up into small pieces and put it in the frig to eat on. While the watermelon still tastes just as sweet I miss the camaraderie that was served with the watermelons of my youth.
Miss Cindy loves watermelon as much as I do and after hearing a story about The Deer Hunter's Papaw James I believe he did too. James like watermelon so much that one year he tried to freeze a whole one to see if he could have watermelon at Christmas.
Tipper
Subscribe for FREE and get a daily dose of Appalachia in your inbox