Today's guest post is written by Appalachian Historian Dave Tabler.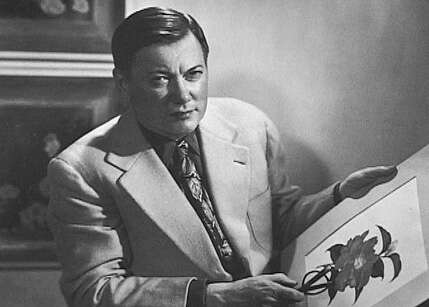 Ralph Sylvester Peer
In 1984, the Tennessee General Assembly recognized the town of Bristol, with one foot in Tennessee and one in Virginia, as the "Birthplace of Country Music." The Commonwealth of Virginia followed in 1995, with both the State Senate and the House of Delegates passing identical resolutions honoring Bristol.
The Bristol Sessions of August 1927 are commonly acknowledged as the event that gave rise to the professional country musician and recording star. Releases from the Sessions put both the Carter Family and Jimmie Rodgers on the country music map.
Ralph Peer, the Victor Talking Pictures A&R man responsible for organizing the Bristol Sessions, often gets the credit as the recording industry visionary who single handedly brought Appalachian music to a national audience. He was only too happy to promote that position himself; in a 1958 interview he stated bluntly "I went to New York and worked for OKeh Records. That's where I invented the hillbilly and the nigger stuff."(he didn't join Victor till 1926.)
As it happens, three other records companies had held or were scheduling auditions to record musicians in Bristol concurrent with Peer's trip.
Why Bristol? Along with Johnson City, TN and Kingsport, TN, it formed the Tri-Cities, then the largest urban area in the Appalachians. Ernest Stoneman, whom Ralph Peer had recorded on location in Asheville, NC in August 1925, was the one who'd recommended that Peer set up shop in Bristol; ironically from our point of view, Peer had blown through Nashville in 1927 before settling on Bristol, but had dismissed it as a location.
Nor was the Bristol undertaking the first attempt by the recording industry to codify and capture this (to the general public's ears) new musical style.
So then, what was the precise moment hillbilly music began? Was it with fiddler Eck Robertson's 1922 New York recordings? These were done at Victor, quite likely produced by Nat Shilkret, who was head of Victor's Foreign Department.
Robertson relates his first encounter with a Victor manager (though he doesn't name Shilkret): "He said `Young man, get your fiddle out and start off on a tune.' Said `I can tell that quick whether I can use you or not.' Well, I said back to him just as honest as I could `Mister, I come a long ways to get an audition with you. Maybe I better wait and come back another time. You seem like you're in an awful hurry.' `No,' he said, `Just start off a tune…' Well, I didn't get to play half of Sallie Gooden; he just throwed up his hands and stopped me. Said, `By Ned, that's fine!' And just smiled, you know. Said, `Come back in the morning at nine o'clock and we'll make a test record."
Shilkret played piano on three of Robertson's first recordings, July 1, 1922.
Perhaps we could argue that hillbilly music commenced with Fiddlin' John Carson's June 1923 Atlanta sides. This was a Ralph Peer undertaking while he was still at OKeh. The Carson Atlanta recordings were almost an afterthought: Peer was primarily in search of black talent for OKeh's race records division.
"OKeh had never made any recordings outside the studio," said Peer of the experience. "We went down to Atlanta, we looked around, found a small vacant warehouse…. I had gone down ahead and began scouting around for some talent. Now, I was dependent largely upon the [Atlanta] distributor of OKeh Records. Matter of fact, I hadn't been to Atlanta, Georgia before—this was my first trip.
"So this fellow ran a furniture store, and he began scouting around, but, to my amazement, he didn't know of any Negro talent…. So I began to switch off, and I said, 'I better record a local dance band, I've got to do something about this.'
"And he went to the local Negro theater and he tried to find acts but nothing amounted to anything, so we did a sort of fill-in job on this first trip. We went down there to get Negro stuff … [but] I don't think we picked up any Negro stuff of any importance….
"Finally there was the deal where he wanted me to record a singer from a local church. This fellow … had quite a good reputation and occasionally worked on the radio…. So we set a date with this fellow, and this boy's father was ill in some other town—he just couldn't make the date.
"So to take up that time, my distributor brought in [white fiddler] Fiddlin' John Carson…. He said Fiddlin' John had been on the radio station, and he's got quite a following. He's really not a good singer, but let's see what it is. So the beginning of the hillbilly was just this effort to take up some time.
"He would never have recommended Fiddling John except that we had a vacant date and the time would otherwise have been lost. So I can't claim there was any genius connected with it, not on my part, not on his part."
Although OKeh held the Atlanta effort in low esteem, the record-buying public depleted the initial supply of 500 records within days, and company record-pressing facilities were rushed into service to fill back orders. When sales reached the 500,000 figure, the company greatly altered its assessment of Fiddlin' John Carson's abilities. Carson was called to New York to record more of the music from his considerable repertoire of old-time ballads and traditional fiddle tunes.
Frank Buckley Walker was the Artist and Repertoire (A & R) talent scout for Columbia Records' Country Music Division during the 1920s and 1930s, and he was monitoring Peer's activities closely.
After the success of Okeh's recording with Fiddlin' John Carson, Walker sent the word out to his record distributors that he was looking for similar talent.
In Atlanta Gid Tanner was recommended and Tanner brought blind guitarist Riley Puckett with him to New York on March 7, 1924 to back-up his fiddle. Puckett became Columbia's and Walker's first country star, and picked his way through "Little Old Log Cabin in the Lane" accompanied on fiddle by Tanner.
On the flip side Puckett yodeled on "Rock All Our Babies to Sleep," introducing a technique that was destined to longevity in country music. Their disc was released on May 20 and was an immediate success.
Columbia viewed this new music style as niche music for poor southern whites, and didn't want to alienate their existing base of both northerners and wealthier southerners.
Initially, says Walker, "The music was not understood by my own people, and they said under no circumstances could we put anything of that sort on the market. But after due pleading on my part they agreed to let me do it providing we not make mention of it in any way. We must not put it on any of our [advertising] hangers or anything."
The year 1924 is noteworthy in country music's history because it produced the first multi-million selling tune ever. For Thomas Edison's recording firm that summer vaudeville singer Vernon Dalhart recorded a cover of a Henry Whitter railroad ballad accompanied by his own harmonica playing and Frank Ferara's Hawaiian guitar. "The Wreck on the Southern Old 97″ (Edison Diamond Disc 51316) was issued in August, and a month later was dubbed for release on Edison Blue Amberol Cylinder 4898.
Neither disc nor cylinder made a special stir, but their good sales did help Dalhart persuade his Victor executives, one of whom was Nat Shilkret, to let him record the ballad for them. Dalhart now coupled "The Wreck of the Old 97″ with his cousin Guy Massey's piece, "The Prisoner's Song." It was released on October 3, 1924 on Victor's Olde Time label, and went on to sell more than seven million copies.
Nor were the big New York recording companies the only ones interested in the newly emerging country music market. Art Satherley had joined Wisconsin Chair Company's new Chicago based record label, Paramount, in 1918, first in manufacturing, then as a salesman. Although the label was known mostly for its race records, Satherley recorded a large number of old time country artists.
Paramount's first foray into the genre came in 1924 with harmonica and guitar player Walter C. Peterson on the budget "Broadway" label (catalog #33150), though his work was tucked into the middle of a pop dance catalog series. By the mid-1920s, after earning a reputation as an expert in the infant genres of hillbilly and race music, Satherley was spending more time scouting and recording talent than working as a salesman.
"He tried to do a job and he did do a job," noted Ralph Peer about Satherley. "He was a good judge of what the market needed."
In January, 1925, Columbia had enough folk material to begin a Columbia 15000-D series, Familiar Tunes – Old and New, paralleling its own 14000-D race offerings. "I created a special series number, as I remember," said Frank Walker, "at Columbia called the 15000 series, and we would make a record and we would manufacture and release it and offer it quietly by a little letter to our various distributors through the South."
At this time Okeh, like Paramount, was still releasing country material on pop labels. Hence, Columbia was the first company to see the possibilities in an exclusive white folk series. By October 1925, OKeh followed suit with a similar 45000 Old Time Tunes category.
The record companies hadn't quite yet settled on the moniker of 'hillbilly music' for this new style of music: descriptions included "Old- Time Tunes" (OKeh), "Old Familiar Tunes" (Columbia), "tunes from Dixie" (Brunswick), and "Olde Time Fiddlin' Tunes from the Sunny South" (Victor).
The term first appeared on an OKeh release from 1925, a recording of a string band from Watauga County, NC, who showed up at the New York recording studio without having decided what to call themselves. When Ralph Peer, who was supervising the sessions, asked for their names, one of the group's members responded, "We're nothing but a bunch of hillbillies from North Carolina and Virginia. Call us anything." So Peer released the sides under the name "the Hill Billies."
Jack Kapp's father was a Chicago based salesman for Columbia Records, and young Kapp joined that firm in 1914 as a shipping clerk. He was hired by Brunswick Records (also Chicago) in 1926 to form a race record division, with initial releases on the Vocalion label.
By 1927 Brunswick's "tunes from Dixie" series featured Vernon Dalhart (he of the 1924 'Wreck of the Old 97' fame), Al Hopkins, Uncle Dave Macon, Dock Boggs, and Buell Kazee.  The Vocalion 5000 series featured Uncle Dave Macon, Am Stewart, Sid Harkreader, and Charlie Oaks.
"Kapp's promotion follows a concrete survey of the country's musical tastes, particularly in the Southern and Midwestern demands for 'hill-billy' and 'race' records," Varietymagazine noted on March 21, 1928. "These two departments have been chiefly developed by Kapp and have contributed to Vocalion's financial success.
"It was Kapp who taught the mountaineer music dealers to capitalize the hill-billy folks' penchant for purchasing from 6 to 15 copies of the same record.  The mountain people don't come down into the valley towns for months at a time, and their chief amusement is the constant repetition of their favorite record, wearing one out and playing a new one."
Johnny Cash called the 1927 Bristol Sessions "the Big Bang of country music." It's a great sound bite, but it wildly oversimplifies the truth. Fiddlin' John Carson, Uncle Dave Macon, Vernon Dalhart, Frank Hutchison, Ernest Stoneman, the Skillet Lickers, Riley Puckett and Charlie Poole were already established recording artists by the summer of 1927.
Victor Talking Pictures and its star producer Ralph Peer had plenty of competitors in the field, and while Peer's contributions are many, he and Victor were far from being the only show in town.
Sources:  www.johnsonsdepot.com/oldtime/frankwalker_interview1.pdf
www.lib.unc.edu/mss/sfc1/hillbilly/HTML/ArchieGreen/greenSection_03.htm)http://www.bluegrassmessengers.com/henry-whitter–1923.aspxwww.peermusic.com/aboutus/rsp02.cfm
www.statemaster.com/encyclopedia/Bristol-sessions
www.folklinks.com/bristol_sessions.html
www.mountainx.com/ae/2008/040208music
www.americanheritage.com/articles/magazine/ah/1994/7/1994_7_38.shtml
Recorded music in American life: the phonograph and popular memory, 1890-1945,by William Howland Kenney
Creating country music: fabricating authenticity By Richard A. Peterson
"Hillbilly Music: Source and Symbol," by Archie Green, Journal of American Folklore 78:309 (July- September 1965)
Ralph Peer interview–Lillian Borgeson, 1958. Southern Folklife Collection, University of North Carolina, Chapel Hill
www.oldtimemusic.com/FHOFEck.htmlhttp://foucaultstelevision.files.wordpress.com/2007/12/feder-dissertation.pdfwww.bluegrassmessengers.com/frank-walker–a–r-man-for-columbia.aspx
"The Rise and Fall of Paramount Records," By Sarah Filzen
Wisconsin Magazine of History 82/2 ( Winter 1998-99): 104-127
Brunswick records: a discography of recordings, 1916-1931,by Ross Lairdhttp://www.duggcollins.com/legends.htm
—————————
I hope you enjoyed Dave's informative post as much as I did. A couple of things that jumped out at me:
Amusing how in the beginning, the recording studios had a hard time believing folks would actually like the old time sound and even went so far as to forbid any advertising of the records for fear they would offend the customers of their established artists
I love what the string band from Watauga NC told Ralph Peer-sounds like something Pap would say about his music
I liked the reference to mountain people playing their favorite song over and over until they ruined the record-been there done that.
Tipper