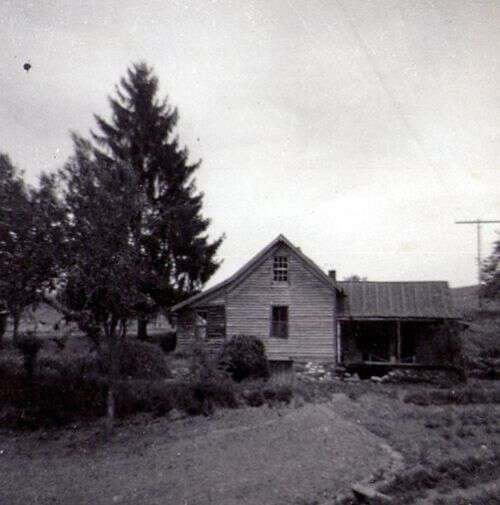 Poke Sallet is a favorite dish of mountain folks whose tastes run to natural foods. Of all the wild greens, its the best known and the most sought after.
But, like collard greens and hominy grits, a taste for poke sallet must be cultivated by outsiders.
Mountain women begin picking poke as soon as the young sprouts shoot out of the ground in the spring, and they keep right on picking it and serving it until the sprouts grow old and tough.
Some of them like Mrs. Elvie Corn who lives here on Dodgin Creek in the hills above Cullowhee, have been picking poke since they were kneehigh to a duck. Mrs. Corn has been searching it out and picking it for more the 50 years.
"Poke is best," she said a couple of days ago, "when the sprouts are white and tender with just a little tuft of green leaves at the top. But you've got to pick it with a sparing hand. The root is a deadly poison. And if you get too much of the lower part of the shoot it'll give a body a fit when they eat it."
She had just come in from picking a mess of poke sallet from the field back of her house.
"There's different ways of fixing poke," she said. "I've never seen any written recipes for it. I learned how to fix it from my mother and my grandmother. But all of it has got to be cooked. First, you've got to parboil it. I boil mine three times. That get's out any poison there might be. With the first boiling, the water turns red. You pour that off, put in fresh water and boil it again. And then you pour that off, put in water again and boil it a third time. You can serve the sallet as it comes out of the pot. Eat it with vinegar poured over it. But the way I like it best is to take it when it comes out of the pot, cut it up, put it in a greased frying pan with eggs and stir it all together."
"Another way to fix poke is to take it after you've parboiled it and cut it up and roll it in cornmeal and fry it like you would okra. It's mighty tasty, too, if you'll chop it up with onions and fry it with bacon or fat-back drippings."
I told her that my wife cooks poke like asparagus and serves it with hot Hollandaise sauce.
Mrs. Corn recalled that as a child all the old folks warned her to be mighty particular about picking poke too close to the root. "They said if you ate the root it would kill you. But my grandmother used to get the roots and boil them until they were tender and then sprinkle cormeal on them and put them out for the chickens to peck on. She claimed it was good for them."
—John Parris "Mountain Cooking"
---
I've only eaten poke a couple of times in my life. Granny said she never cared for it when she was growing up, but said her sister and her husband was just crazy about it and would go out and gather it every spring. Pap said his family ate it, but that he thought of poke as one of those things that he would only eat if he had to.
The most recent time I tasted poke, which was many years ago, a friend made some with scrambled eggs like Mrs. Corn described. I did not care for it at all. I'd like to find some poke and try fixing it the other ways described in the excerpt and see if I liked it any better.
Last night's video: Starting Tomatoes in Appalachia & Our Favorite Varieties.
Tipper
Subscribe for FREE and get a daily dose of Appalachia in your inbox