The Mountain Flavors Class is going great! The students are all fantastic and we are having lots of fun! Yesterday was jelly day we made: Blackberry (with berries we picked ourselves), Blueberry Jam, Peach Jam, and JCCFS Red Pepper Jelly. Here's the recipe for JCCFS Pepper Jelly in case you'd like to give it a try too.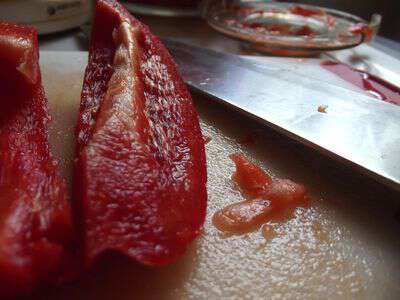 The John C. Campbell Folk School has it's very own Red Pepper Jelly. The original recipe is in the 1971 cookbook, Favorite Recipes of the John C. Campbell Folk School. It may be in more recent cookbooks published by the folk school as well.
I've made a few changes to the original recipe-only minor like switching out the originally called for liquid certo with sure jell.
Red Pepper Jam
4 cups sweet red peppers-chopped fine (I used a food processor)
1 teaspoon salt
5 cups sugar
1 cup apple cider vinegar
1 package of sure jell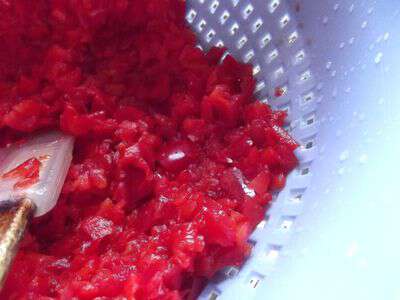 Add salt to chopped peppers and allow to sit for at least 2 hours-then drain well.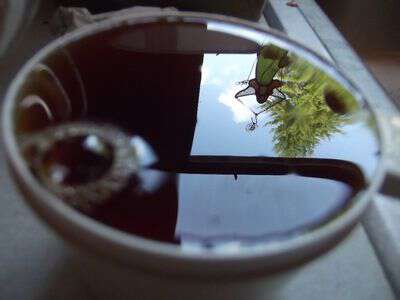 Put drained peppers in a large pot-add vinegar. (Can you see the angel and the tree in my vinegar? I didn't notice them until I uploaded the photos-sweet!)
Stir pectin (sure jell) into mixture and bring it to a full rolling boil-boil for one minute.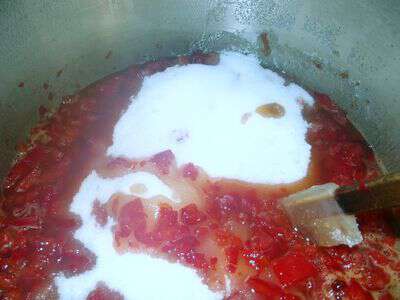 Stir in sugar and bring mixture back to a full rolling boil-boil for 1 minute.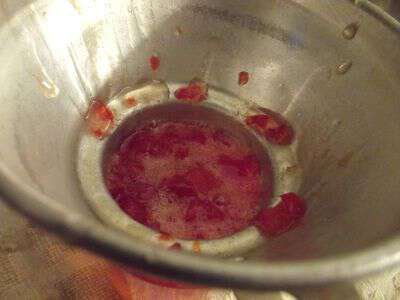 Ladle hot pepper jam into sterilized jars and seal.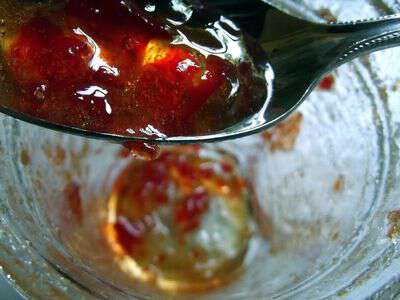 You cannot believe how good this red pepper jelly is-it is beyond good and such a pretty color shining through the jars. The only problem with it-as you can see by the empty jar-is we're eating it way too fast for it to last through the winter.
Tipper