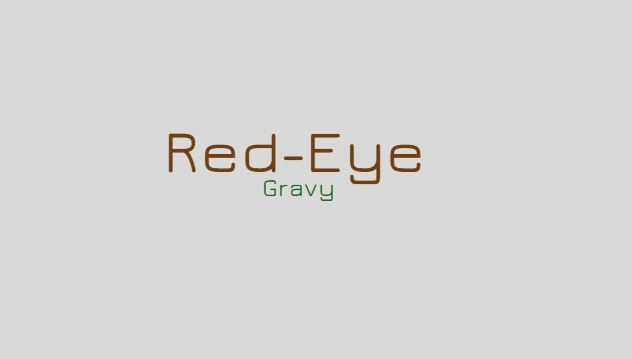 A few month's back I received the following email:
Mrs. Tipper,
Hello my name is Christa. I'm 30 years old and I too grew up very southern. For half of my life I grew up in the Crisp Springs community in Warren County, Tennessee where my daddy's people were from. The other half in Grundy County, Tennessee where my mammas people were from. Unlike the other family members of my generation I enjoy my heritage. At 16 I started to document recipes from the older generation of my family before they passed. I lucked up and got recipes like my grandfathers fried wild morel mushroom recipe ( we always called them dry land fish). We would harvest them in the woods on the side of the mountain certain times of the year. I have very fond memories attached to certain foods like that. All that being said I was hoping you could help me find one that for some reason I did not think to get before everyone passed. I am trying to find out how to make red eye gravy. If you could help me I would greatly appreciate it.
Christa
---
Well I wasn't much help to Christa. I've never made red eye gravy and I don't even think I've eaten it more than once or twice. But I told her I bet some of the Blind Pig readers would be able to help.
Please share your favorite red eye gravy with Christa and me!
I did look in one of my cookbooks and found this about the name.
"The name, for instance, was said to have been coined by that great Scotch-Irish frontiersman, Tennessee's (Carolina-born) Andrew Jackson. Presumably the future president named it thus when he observed the eye winking in a bowl of gravy fresh out of the pan. But where did the color red get into the act? Mark Sohn theorizes the red eye is represented by the bone one cuts in slicking a large piece of ham. Another story credits a red-eyed drunkard who made a respectable ham sopping gravy under the watchful eye of Old Hickory himself.
But wait: This ham gravy has other names. Bird-eye gravy is what people on Sand Mountain, Alabama, call it. In upstate South Carolina, my father always bragged on "Miss Wincey's muddy gravy." So take your pick.
Whatever the name, red-eye is a simple yet classic gravy that depends only on the leftover drippings of fried ham, plus water, and /or perhaps coffee. Some mountain cooks prefer to use only coffee as the liquid. Olene Garland told the Foxfire students that she poured coffee over the ham while it was cooking. After it reached boiling, it was time for the gravy to be poured up (and the ham taken out) for serving.
—Joseph E. Dabney "Smokehouse Ham, Spoon Bread & Scuppernong Wine"
---
The only thing we put up this week was a run of salsa. I think its the best salsa I've ever canned. I used this recipe.
Tipper
Subscribe for FREE and get a daily dose of Appalachia in your inbox