Today's post was written by Paul.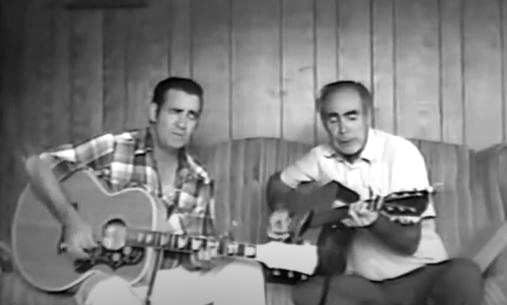 Today I'm sharing another song from the 1989 VHS filmed by Derwin Chastain.
This is an old Louvin Brothers song The Wilson Brothers did fairly often.
Watch closely and you'll see a 2-year-old Andrew Chastain dart quickly through the frame at one point.
I thought about cutting off the ending where the song has stopped (where Pap blares his eyes and Ray scratches his nose), but I left it in just to show how informal and unpretentious they were about their singing, whether a camera was rolling or not 🙂
I hope you enjoyed the old video! Andrew, the little boy in the video, grew up to be an amazing musician and singer himself. To see a video compilation Paul made for one of his songs go here. Andrew does a different type music than we do and if you do jump over to watch the video you can read about what prompted Paul to make the compilation.
If you'd like to have some Wilson Brother music of your own, check out the cds below: "Live at the John C. Campbell Folk School" and "Today if You Will Hear His Voice."
Tipper
Subscribe for FREE and get a daily dose of Appalachia in your inbox