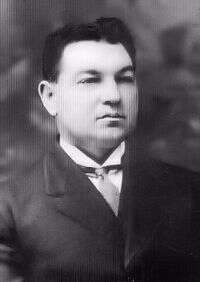 James Rowe
James Rowe was born in Ireland and worked for the Irish Government before emigrating to the USA at the age of 24. Rowe was the son of a copper miner. Once he arrived in the states he worked for the railroads in Albany, NY for 10 years.
In later years, Rowe worked with in the music publishing industry-with companies such as the A.J. Showalter Music Company in Chattanooga, TN; and the James D. Vaughan Music Company, Lawrenceburg, TN. Before Rowe's death he moved to Vermont where he and his daughter wrote greeting card verses.
The Hymntime.com website offers the following quote from Rowe's daughter regarding the most famous song he penned-Love Lifted Me. She describes the composer, Howard E. Smith, who wrote the music for the song as Rowe described it to him.
"Howard E. Smith was a little man whose hands were so knotted with arthritis that you would wonder how he could use them at all, much less play the piano…I can see them now, my father [James Rowe] striding up and down humming a bar or two and Howard E. playing it and jotting it down."
In recent weeks the Blind Pig Gang has been giving the song a try-see what you think of our version of Love Lifted Me.
Hope you enjoyed the the history and the song!
Tipper
*Source: Hymntime.com