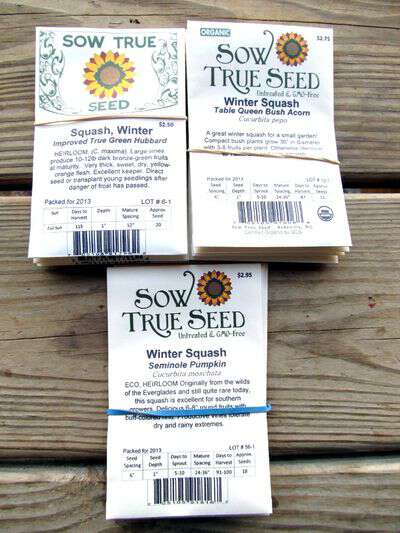 It was way back in February (can you believe May is half over!!!?) that I deputized 16 Blind Pig & The Acorn Squash Reporters. Sow True Seed signed on as a sponsor for the Blind Pig & the Acorn's garden again this year-and they generously donated extra squash seeds for me to share.
May is the busiest month of the year at work for The Deer Hunter and me. Between work, sickness, and rain it seems like we've gotten a later start on our summer garden than usual. But I'm proud to say my squash reporting seeds are finally in the ground! And I feel a huge sigh of relief about them being in the ground.
A few Squash Reporters @ Large have sent in their first report-see below.
Julie in AZ: All of the seeds are up. I planted them on March 31st. So far so good. The crooknecks are up the farthest!! May 1st: The squash plants from Tipper's seeds are up and looking strong! No vines or blooms on them yet; but they are looking good. We need to beat the heat out here for fruit to set. Wish me luck there.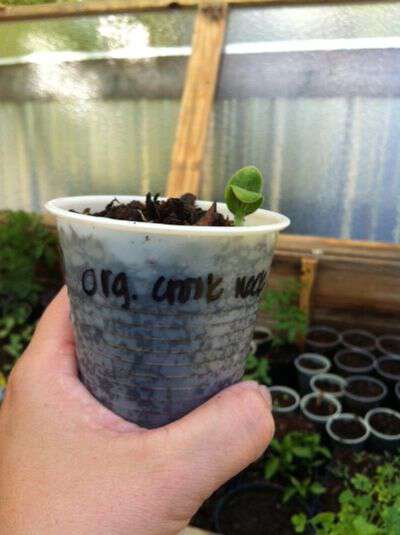 Lanie in western NC: My first update on the squash seeds you sent me: We have all of our seeds started in cups in a cold frame. The first seeds (of the ones you sent me) came up today, and I wanted to show you a picture (see above). Hopefully the others will be up in a few days. (Report date: April)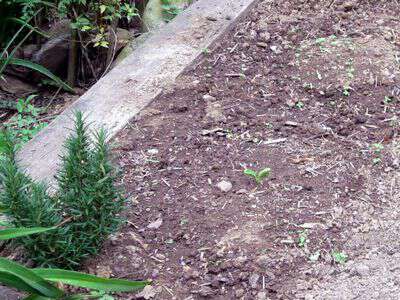 B.Ruth in east Tennessee: Here is a picture of my Zucchini Squash, that was planted on April 25th…we planted three hills, three seeds to a hill…I picked out some bigger ones..and a couple of small seeds…I wanted to save the same balance for planting the bad day seeds….I plan to plant them today…I hope…I know I am late..on the bad day…The first sign of life was May 8th barely peeking thru in one hill….yesterday evening May 9th I took this photo…It looks like there is a small on in the next hill coming thru…..I know, I know there are many little weedy things coming up but I was afraid to pick them out until I know for sure which is the zucchini seedling….It seems to me that these seeds have sprouted way too slow…we'll see how they do..All the good day/bad day seedlings of the other winter squash (which by the way were planted same day and bad later) are up to a rousing start. My husband said, (I haven't been down yet to take a picture) the Thelma Sweet Potato squash all came up about the same time, just jumped out of the ground!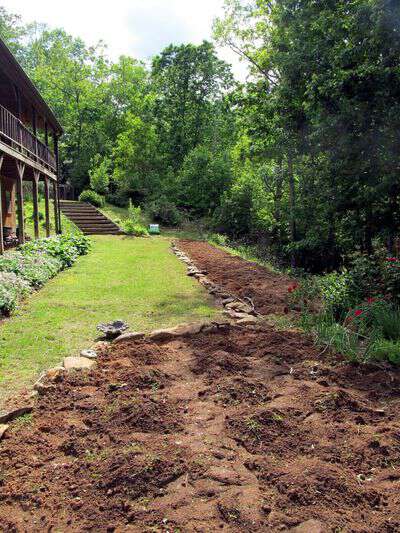 The Deer Hunter and I planted at least a mound of each of the test squash varieties (you can go here to see the list)…except the Winter Squash Pink Jumbo Banana…which I'm too scared to plant. I just cannot get my head around a squash that might grow to weigh 40lbs-but I guess pumpkins get bigger than that-so maybe I'll plant one more mound for the Jumbos.
We also planted squash varieties sent to us by Blind Pig readers. Bill shared his orange cushaw, green and white striped cushaw, banana squash, and white cushaw seeds with us. Norma shared a heirloom blue pumpkin seed with us-that's hails all the way from New Zealand. (THANK YOU Bill and Norma!)
If all our squash varieties are successful we may have to open a produce stand. I'll keep you updated on their progress.
If you're a Squash Reporter @ Large-please leave a comment and update us on your squash seeds.
Tipper