Today's guest post was written by Jim Casada.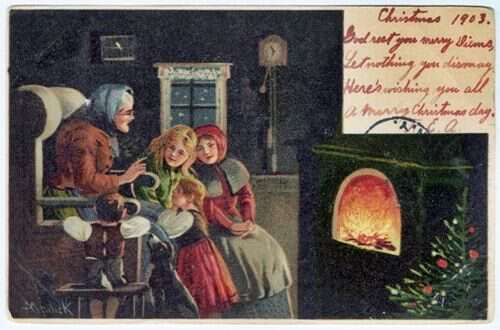 OLD CHRISTMAS written by Jim Casada
Like everyone I knew as a youngster growing up in the Smokies, my family celebrated Christmas on December 25, and I don't recall any activities from my boyhood directly associated with what mountain folks have long styled "Old Christmas." However, both my parents were keenly aware of the long established tradition of recognizing the date of January 6, which came 12 days after the date on which the holiday is now celebrated, as Christmas Day. They would talk about it around "New Christmas" and in all likelihood someone would mention, come January 6, that this was "Old Christmas" or the "real" Christmas.
The essence of the January 6 date links to a calendar change tracing back to the middle of the 18th century (1752 in England, although the change came much earlier, in the late 1500s, in continental Europe). The transition was from the Julian calendar, known as the Old Style one, to the Gregorian or New Style calendar. The rationale behind the change involved lost days, over time, thanks to the absence of a Leap Year as a part of the Julian calendar. That move from one calendar to another was a traumatic one, at least in the British Isles, with many common folks believing the government had deprived them of 12 days of their allotted life span (in other words, distrust of the government is nothing new). There were riots in London and elsewhere, with mobs in the streets screaming "we want our 12 days back," as a result.
When settlers came to the New World they brought with them the tradition of Old Christmas, that of the Julian calendar, and it was celebrated in many areas of the Appalachians well into the 20th century. According to mountain legend, at midnight, with the arrival of Old Christmas, various miracles occurred. Among them were roosters beginning to crow at 12:00 and continuing to do so right on up until daybreak, cows and other livestock kneeling in homage to the Christ child's birth in a manager, and flowers (especially elderberry bushes) suddenly bursting into bloom in the midst of winter. Those who celebrated Old Christmas held that it was the true and sacred date and that December 25 was a commercialized, secular version rather than the one associated with the birth of Jesus.
Old Christmas primarily involved prayer and the singing of carols as opposed to feasting, giving of gifts, and celebratory festivities. Even if there was dancing and merry-making, as midnight approached fiddles became silent, family and friends huddled close to the hearth while holding hands, and one or more of the elders present would offer prayers. There was little if any in the way of giving of gifts associated with Old Christmas. In his youth my father's Christmas celebration was in some ways a combination of Old and New Christmas. His family recognized December 25 as Christmas Day, but partly because of poverty but also because of close association of the day with religious observances, gifts were minimal, with the children getting a stocking stuffed with some hard candy, nuts, maybe an apple or orange, and little more.
There were also some folkways associated with the time period. Perhaps the most common of these involved the "12 days of Christmas" (the time between December 25 and January 6) being known as Ruling Days. Traditional folklore held that various signs observed on each of the days, along with the weather each one brought, foretold what each of the 12 coming months held in terms of weather conditions. "Signs" such as cloud formations, wind patterns, heavy frosts (or lack of them), precipitation, and animal behavior were all observed carefully during the 12 days. Lest you dismiss such practices as sheer superstition, I would simply note that many old-timers of my youthful acquaintance were flat-out weather wizards when it came to predictions.
It was considered bad luck to carry out ashes during the 12 days, something which could have posed a problem in an era where the main source of heat in many a home was a fireplace or fireplaces. Cutting, splitting, and burning wood was an integral part of daily life, and over the course of almost two weeks, especially if it was cold, a goodly pile of ashes would have built up. Maybe turning them to soap, one common usage for wood ashes, would have been appropriate, but that was a chore almost always performed out-of-doors.
Old Christmas is now but a fading memory, but 150 years ago there were probably more folks in this part of the world who celebrated the birth of the Christ child on January 6 than on December 25. If nothing else, such traditions deserve to be remembered whether or not they are practiced.
—-
I had never even heard of Old Christmas until I started the Blind Pig and The Acorn. I hope you enjoyed Jim's post as much as I did and if you have memories or knowledge of Old Christmas please leave a comment and share what you know.
Tipper
*Ruling day 12: Low 49 High 64 Rainy, Cloudy, Windy
Subscribe for FREE and get a daily dose of Appalachia in your inbox