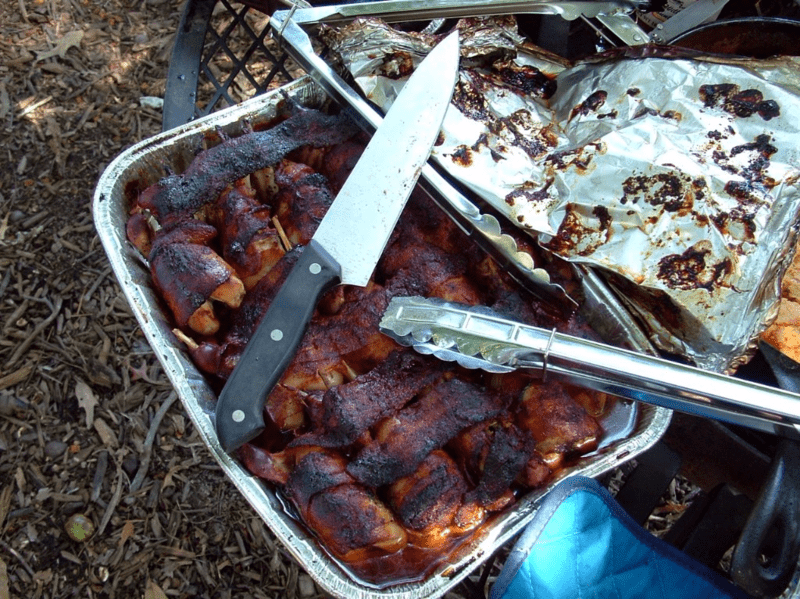 A few weeks ago Blind Pig Reader, Mel Hawkins sent me the email below:
Tipper:
I grew up hearing (& using sometimes) the terms stout, bait, & wormy. As in: "Lordy mercy Lee Roy shore did eat a big bait of them soup beans, didn't he?–He better not git too close to the farrplace tonight…!" And: "…'at Herman shore has growed up to be big & stout, ain't he? Why, I remember when he's jist a wormy little ol' young'un, not no bigger than a minute…."
Have y'ns ever heard these words? Or used them? I wonder where "bait" usage derived from….could it be an old timey way of saying "bite"…?
—————–
My answer to Mel's question:
I've heard bait used to describe a large amount of food my whole life. I still hear the word used in that manner frequently-Pap and The Deer Hunter both use it. As for the origin of the word-the Online Etymology Dictionary has this reference: "food put on a hook or trap to lure prey," c.1300, from Old Norse beita "food," related to Old Norse beit "pasture," Old English bat "food," literally "to cause to bite" (see bait (v.)). Figurative sense "anything used as a lure" is from c.1400." My Dictionary of Smoky Mountain English documents the word bait being used to mean a large amount of food as early as 1859 in western NC. I'm thinking you're (Mel) right and the usage of the word bait being derived from the word bite.
Same goes for the word stout heard it all my life. Anyone with a large body is referred to as stout by Granny.
I was so skinny when I was little someone was always telling me I must be 'wormy' in a teasing manner. We tease the girls in the same way. And I remember a few horror stories about kids who really were wormy-YIKES!
Now that I've given Mel my answer-I hope you'll leave him a comment and give him yours.
Tipper