Some laughter by way of one of Pap's old friends.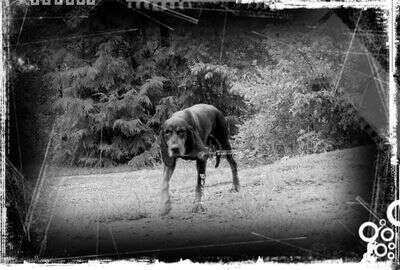 Evert was well known for being a prankster-never one to pass up a chance to poke some fun at someone. He had a new tool in is arsenal-a dog whistle. One afternoon Evert went up the road to visit Frank. After arriving on the porch to sit a spell, Evert told Frank to call his dogs-he wanted to see if they were any good. Frank called to his dogs and one came bounding up the steps just in time to hear Evert allow "that dogs crazy". Frank said "why thats one of the best dogs I got!"
As was typical with most older gents in those days-Evert always had a black gum "toothbrush" hanging between his lips. Right quick like he replaced it with the dog whistle and gave a good blow. The dog began whining and scooting around. Evert said "see I told you Frank he's crazy." As Frank examined the dog to see what was the matter-Evert took the opportunity to give another blow to the whistle. The dog went to wallowing and whining all over the porch floor. The third blow sent the dog careening off the steps wildly running for the woods. Just at the wrong moment the dog snuck a look back and ran straight into an old turn plow. Now convinced, Frank yelled "Lord Ada get the shotgun that dogs gone straight crazy."
———-
When Frank and Ada were newlyweds, Frank cut timber for a living. After a long hard day of being on the mountain he came home to no supper on the table. Having quite a temper, being slap worn out, and hungry he flew into a rage, grabbed a bowl and threw it against the wall. He looked at Ada and said "now how did you like that?" Ada picked up a bowl threw it against the wall and said "pretty good now how did you like that?" (I think this was the way Ada showed Frank she could handle anything he put out there)
———-
Part of the fun for coon and fox hunters, is standing around the fire listening to the dogs run waiting for them to bay or tree. Frank had a dog, Old Blue, that really wasn't much of a hunting dog. Everyone teased Frank that Old Blue would just get out of the circle of light, made by the fire, and lay down to nap-leaving the rest of the pack to run.
One night Frank and some fellows were out hunting. Frank went to check on the running dogs, while some of the others were standing around the fire. One was whittling a stick-he cut 2 holes in it-just fooling around. One of the others noticed-remarking it looked like a pair of glasses. As they started laughing about the glasses-one of them came up with the idea of tying them on Old Blue-and they did. A little while later Frank showed back up and said he'd been thinking about it "Old Blue wasn't lazy-he was probably so old he was going blind." The fellows couldn't believe their luck-they quickly told Frank they agreed and he should call Old Blue in so they could look at his eyes. Frank called Old Blue and there he came-trotting up to the fire wearing those homemade glasses. The men he-hawed and agreed yes Old Blue must be going blind. Frank-he got very very mad.
I hope you enjoyed the memories of Frank-people like him-they're what folks refer to as salt of the earth. Frank was good, decent, honest-and funny too. Frank is long gone on-yet Pap still wishes he could walk over the mountain and sit a spell with him. If you know someone like Frank-I urge you go for a visit-enjoy a story or two-it'll do you both good!
Tipper