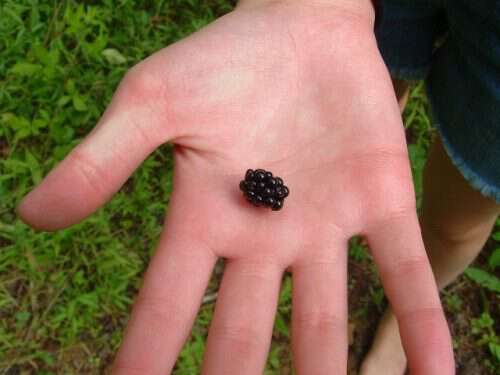 Purple stained hands and lips are common around our house this time of year. There are tons of wild Blackberries growing around our house and we take full advantage of their bounty each summer.
When we can refrain from gobbling them all up-I like to make Blackberry Jelly-in my opinion the best of all jellies.
Granny use to make jelly the old time way, by using just sugar and  juice. I go the easier route and use the Sure Jell box recipe.
Mother Nature seems to be making up for last year's late killing frost by producing a bumper crop of Blackberries this summer. I made 4 runs of jelly from about an hours worth of berry picking.
More than enough to share! These jars are waiting to be delivered to Granny and Pap.
Appalachian Blackberry Folklore from The Foxfire Book:
~To relive Diarrhea drink some Blackberry juice
~To aid in stomach trouble drink some Blackberry juice or wine
~To relive Dysentery drink some Blackberry juice
~It will be a bad winter if Blackberry blooms are especially heavy. (if this one is right-I better buy some new sleds for Chatter and Chitter)
Hope you enjoyed your visit- picking Blackberries in Appalachia. Now you know Blackberry is my favorite jelly-what's yours?
Tipper
p.s. Pappy has asked me to list 7 songs I'm really enjoying at the moment.
Down the Escalante by Paul Wilson (I'll never get tired of hearing this masterpiece)
Two Baby Blue Eyes by The Nashville Bluegrass Band (Alan O'Bryant once told Chatter and Chitter they were cute as bugs)
Wagon Wheel by Old Crow Medicine Show (they have unbelievable energy on stage)
Misery and Gin by Merle Haggard (A recent post of Pappy's is responsible for this one)
Memphis by Johnny Rivers (awesome video on Youtube provided by WeldonWho2)
I Believe by Matchbox Twenty (Chatter and Chitter's most recent clogging song)
Danny Boy by Paul and Pap Wilson (one of the best songs ever written)
If you feel inspired-list 7 of the songs you are into at the moment.