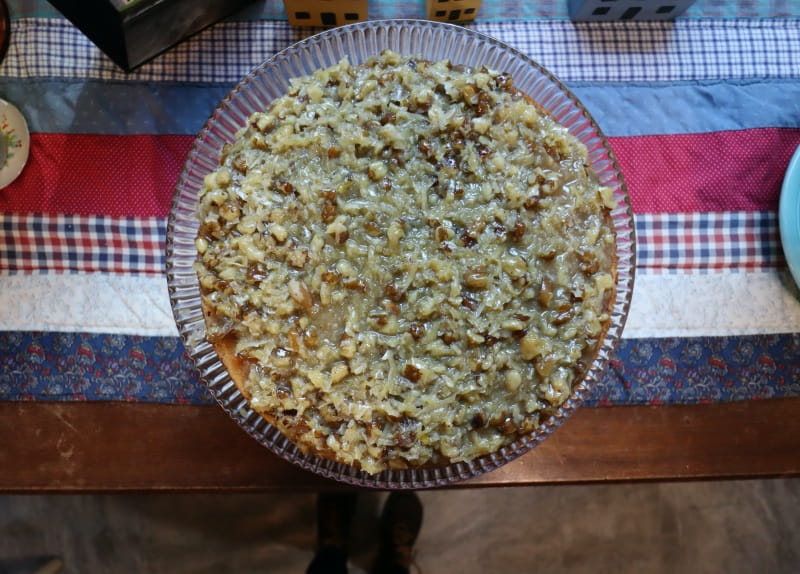 In my recent video I demonstrate how to make my all time favorite Appalachian dessert—an Arsh Potato Cake.
As much as I love the cake you'd think I'd make it all through the year, but I end up mostly making it during the holidays.
When we get together to celebrate I always make one and everyone else seems to enjoy it too…but I'll tell you a secret, I don't care if they don't like it! If the cake doesn't get eat up at our feast I know I'm going to get to eat it when I take it home 🙂
To view the recipe for Arsh Potato Cake go here.
As I said in the video—if you decide to make one traditional Appalachian dessert let it be this one—I know you won't be sorry!!
Help me celebrate Appalachia by subscribing to my YouTube channel!

Here's a list of recent Thankful November giveaway winners. If you see your name in the list please send your mailing address to me at [email protected] and I'll send the item your way!
"Appalachian Values" by Loyal Jones: Becky Burnett Nunnaley who said: "I grew up the same way. My grandpa had a saying when someone who had dropped in was invited and accepted the invitation to eat: "You see what we have. Eat it if you can. If you can't, don't mess it up, because we have to! My husband is from California. He didn't know what to think when I invited the sweaty, dirty worker who was remodeling our house to eat supper with us when he worked really late a couple of times. I just found it impossible to sit down and enjoy a meal with him outside and hungry."
"Bushcraft Basics" by Leon Pantenburg: Shirl who said: "Choosing clothing best suited to survival caught my eye. My grandsons showed up to go deer hunting in tennis shoes, thin camo overalls and only an orange cap for their head. My parents expressed their horror at a lack of clothing by saying things like, get in there and get you some clothes on or you'll freeze to death going out half neckid. The boys just laugh when I say those things."
"Dorie Woman of the Mountain" by Florence Cope Bush: Yvette H Ridenour who said: "I grew up hearing stories of my Granny's childhood and adulthood (she was born in 1911 and died in 2007) and how her grandmother and mother, and later she, too, made lye soap. Our background is British, too. I have had so many experiences of "sensing" something before it happened–it would take hours for me to recount them all. It's something I began experiencing as a young adult, mostly through dreams, but sometimes just a feeling about something that later proved to be true. On the night Granny died, I was sitting with her and my husband was supposed to come to relieve me. I called him and told him that I thought I would stay–I had a strong feeling that she would die that night, and she did. I am so glad I was there when she breathed her last–she was the person in all the world who had the most impact on who I am and what I believe. I had a dream in 2010 of seeing her in heaven, and I know someday it will be fulfilled."
Tipper
Subscribe for FREE and get a daily dose of Appalachia in your inbox