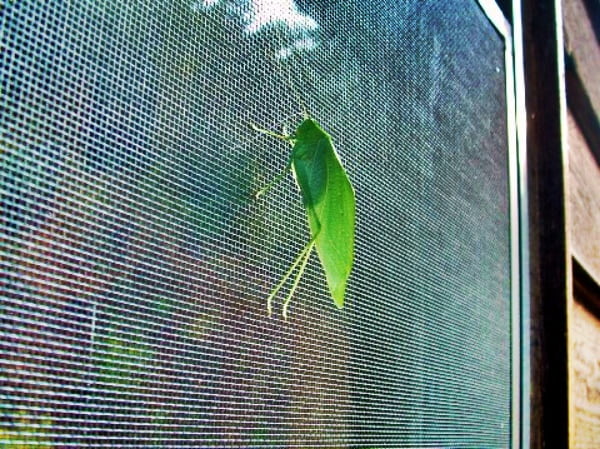 The katydids have been out in full force for several weeks now. I love to listen to their repetitive chorus. Even with all the windows shut you can still hear their nightly banter. Sometimes The Deer Hunter opens our bedroom window a little so we can hear them better.
Not everyone enjoys hearing katydids. Over the years I've written about them several times and a few people have said they think katydids are the most horrible sound on earth.
Years ago I was at a contra dance at the Folk School and stepped outside for a breath of air—it can get very hot on the Keith House dance floor when there's a crowd.
Another gentlemen visiting the area and attending the dance had the same idea. He said "It's really loud in this part of the US." It took me a minute to realize he was talking about the katydids.
If you've never heard the story behind why katydids make their sound here's the jist of it:
There was a lovely maiden named Katy who fell in love with a handsome man. She loved him with all her heart and soul and only wanted to please him. Fate turned against her when the handsome man fell in love with her sister. The pain of seeing them together was too much for Katy and in a fit of jealous anger she killed them both. No one in town would have ever believed she killed them, but the bugs turned against her telling the towns people: Katy did it Katy did it.
Here's a few pieces of katydid folklore
katydids sing to bring in cold weather (I'm telling you it takes them a while 🙂 )
3 months from the first katydid chirp there will be frost
the earlier in the summer you hear the katydids-the earlier the first frost will be that fall
the first katydid you hear in July-it'll frost on the same day of the month in September
If you've never heard katydids before, here's a short video recording of them I did several years ago.
Every year I hope to notice the very first night the katydids began their song, but I never manage to accomplish it.
Tipper
Subscribe for FREE and get a daily dose of Appalachia in your inbox