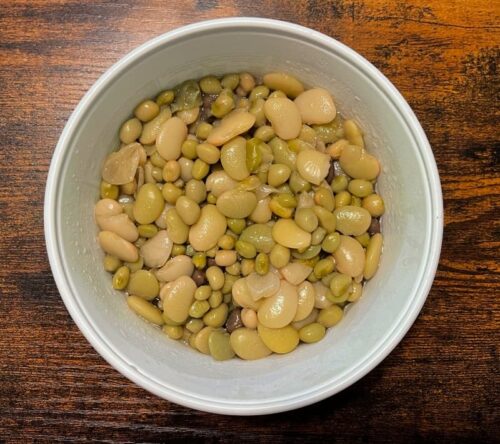 We recently played at a Homecoming over in Suches, GA. Those are our favorite gigs to play—there's always good people and plenty of good food.
The congregation insisted we get our plates first. There's always so many things to choose from that my strategy is to get a little helping of everything and then go back for seconds of what I really love.
One of the dishes I liked the best was lima beans and peas. It was simple but so very good.
I was raving about how good it was and Chitter said "Well that lady over there made it. I heard her say she's been making it for years. Her husband just loved it and even though he's dead she still makes it for homecoming because then that makes it seems like he's here too."
After I finished up I went and asked her about the dish.
She said it wasn't really anything special just lima beans and peas and that she used a little canola oil in them as they cooked but used to use meat for seasoning before her husband was diagnosed with heart disease.
The beans and the peas came from her garden, I'm sure that's why they tasted so fresh and good.
She said "You ought to take some home with you. Cause there's no one at home to eat them but me."
I was tickled pink when she went to a cabinet and got me a plastic bowl to fill and told her "These would be perfect with a piece of cornbread." She said "Well we didn't have any cornbread today." I said "Don't worry I can handle the cornbread part."
If you've been reading the Blind Pig and The Acorn for a long time you'll remember many guest posts by Ethelene Dyer Jones and her son Keith Jones. The church we performed at is pastored by Keith's son, Ethelene's grandson, Matthew Jones.
I hope to go back for a visit with the sweet lima bean and peas lady. She was a long time teacher at the Woody Gap School there in Suches.
Tipper
Subscribe for FREE and get a daily dose of Appalachia in your inbox