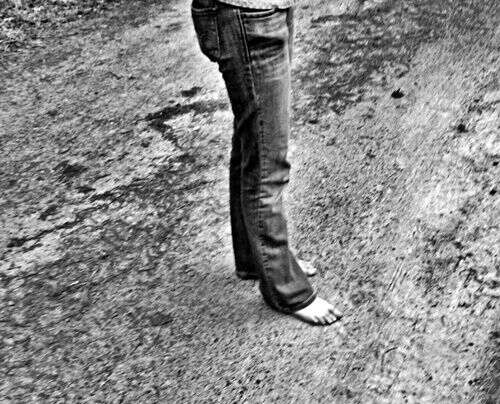 I'm not sure what it is about summer, but it always takes me back to childhood and makes me feel like I'm a skinny barefoot girl again even though those days are long since gone.
Summer in Appalachia is magical. 
It's as if the outdoors beckon you like a seducing siren. The land simply comes to life. I'm sure others feel the same calling the same awakening in other parts of the country, but I can only speak of what I know and summer in Appalachia is something I know.
The word summer makes me think of barefeet, slamming screendoors, a sea of green, being sent to the garden for something, sending someone to the garden for something, katydids, lightning bugs, warm tomatoes, canning jars, hard work, swimming, sunning, watermelons, blackberries, flip flops, cotton night gowns, warm dirt, baseball, sun kissed faces, corn on the cob, fried squash, fresh cucumbers, picking and grinning on the porch, clotheslines, honey bees, orange day lilies, and red hot pokers.
I love the song "Summertime" composed by George Gershwin and made famous by many. I used to try and get the girls to learn it pretty much every summer but they never managed to do it. Paul and Wayde Powell III have a wonderful version you can hear it here.
There are other songs that take me back to summer. One is "Bury Me Beneath the Willow." When Pap and Paul were still playing it was one of my favorite songs to play the bass on.
Lucky for me, the girls did learn that one so I still get to play the tune today.
I dug around on one of my favorite music site: Mud Cate Cafe and found a quote from Mother Maybelle Carter that had been shared by a Mud Cat member:
'Bury Me Beneath the Weeping Willow'
From: Kaleea
Date: 25 Jul 05 – 10:19 PM
Ok, here's the rest of what I found:
During a 1970's interview, I asked Mother Maybelle Carter about the song, "Bury Me Beneath The Willow ."
She replied, "That was a song we had sang all our lives. We first heard the song at a family get-together and decided to learn it. We did learn the words and sang it at all our family parties and get-togethers. The song became quite popular so when we recorded for RCA Victor in 1927–we recorded "Bury Me Beneath The Willow" on our first recording session in Bristol, Tennessee. The original version of the song was written by Bradley Kincaid."
---
The thread about the song on Mud Cat Cafe is interesting. The commenters discuss the varying titles the song has been given over the years, as well as the various lyrics that have been used by different performers. I think its pretty safe to say neither A.P. Carter nor Kincaid wrote the song. Most song historians agree its been around longer than either of them.
"The Journal of Roots Music" has this to say about the history of the song: "…it is more likely that Mr. Kincaid simply "collected" the song during his travels in the mountains, since a written version was in existence when he was only 14, and already in tradition. "
If you'd like to hear a few other versions of the song here's one with Pap, Paul, me, and one of my nephews. And here's another version from The Pressley Girls when they were much younger.