Today's post was written by Paul.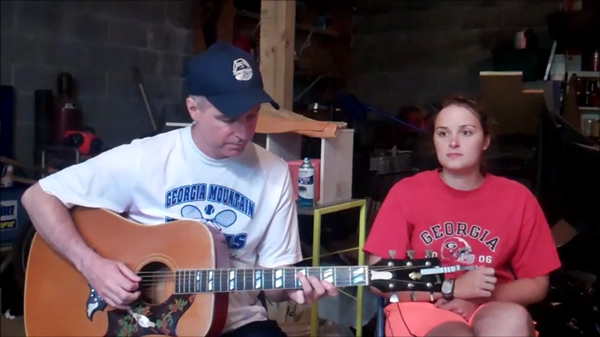 Most weekends, I practice music with the Pressley Girls (aka Chitter and Chatter). Often, when they have finished going over their sets or whatever tunes they want to practice that day, I will pull out one of Pap's original songs or a song that he and his brother Ray sang.
Recently I thought of one for us to try from Willie Nelson, which Pap and Ray sang often.
Man, what solid advice is offered in this song! If only we could all follow it, it would pretty much fix everything.
I think Pap and Ray may have learned the song from Jim and Jessie, but I'm not sure, as I have only heard the Wilson Brothers sing it.
The girls were surprised to learn that Willie wrote it, but once you know it, you can hear a recurring key change that he used similarly in "Family Bible." Chitter had heard the song enough on an old cassette of Pap and Ray that she knew the words to the chorus.
Most times, if I raise the key of a song a couple of frets from where the Wilson Brothers sang it, then Chitter can sing harmony on it, similar to Pap's harmony but more mid range or lower.
I could tell quickly that it would work on this "In God's Eyes," so I set up the Flip Cam.
It took us one and a half tries. If folks seem to like this song, we may add it to our sets (whenever we're able to play in public again!). I put the outtakes at the end because I thought some folks might find Chitter's chicken talk funny. I thought too that it might demonstrate a little of the process of us learning a song together. After we filmed this, Chitter, Chatter, and I tried a trio on one of Pap's most well-liked original songs called "God's Sunshine on the Mountain." It seems promising, and I hope we can film and upload it next weekend. Thanks for watching!
I hope you enjoyed Paul's post, the song, and the peek behind the process. If you'd like to hear Pap and his brother's music check out the cds below: "At the John C. Campbell Folk School & On Radio" and "Today If You Will Hear His Voice."
Tipper
Subscribe for FREE and get a daily dose of Appalachia in your inbox
Blind Pig & The Acorn Music