After reading Garland Davis's recent guest post about porches Jim Casada sent me the following piece he wrote a few years back.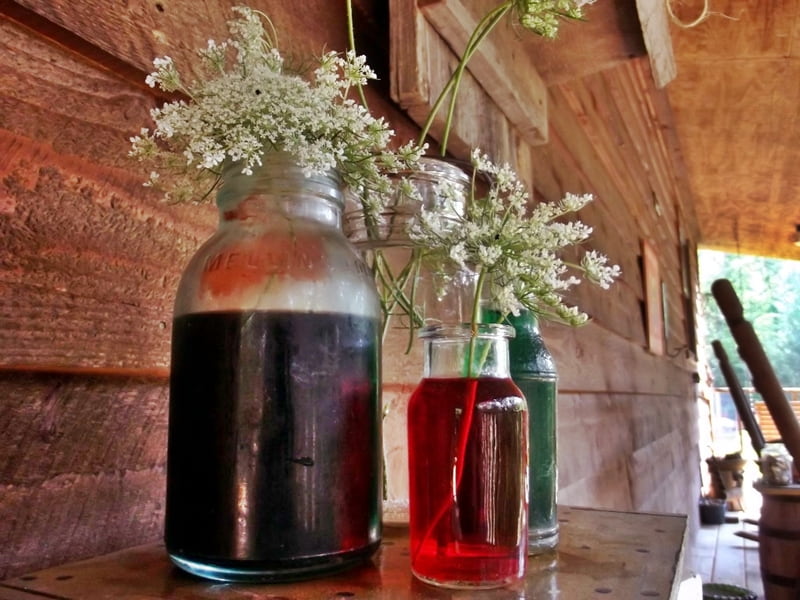 "In Praise of Porches" written by Jim Casada
One of the many blessings folks living in the Smokies tend to take for granted is that they can enjoy their porches on balmy spring days, throughout the summer in early morning and from late afternoon until bedtime, and well into autumn when Indian Summer holds sway. With a fan and shade trees, even mid-day in the summer can be tolerable. Such is not the case everywhere. In fact, what might be styled the "porch season" has quite a lengthy run in the high hills of the southern Appalachians.
In today's world of air conditioning, near addiction to television screens, and a seeming compulsion to be indoors, porches don't loom nearly as large in everyday life as was once the case. Yet I'd like to sing the praises of porches, and much of my tribute comes directly from countless wondrous hours spent on them, mostly on the one at my boyhood home or that of my paternal grandparents. Of course there were porches aplenty elsewhere–summertime courtships where I had neither the money nor the transportation to do anything but visit (they provided a welcome bit of privacy), picking and grinning sessions on summer evenings, visits with friends or relatives, and much more.
When visitors came a-calling, weather permitting we adjourned to the porch overlooking the town and offering vistas of Frye Mountain, the head of Kirklands Creek, and the beginning of the Alarka range on the opposite side of the Tuckaseigee River valley. It was a grand place to be when thunderstorms threatened. On countless occasions when a good shower would have been most welcome we watched rains falling on the opposite ridgeline, sometimes so heavy they hid Frye Mountain, with flashes of lightning momentarily brightening the sky. We almost never got the benefit of those evening showers, because typical summer rain patterns brought rain from the southwest, moving up the river.
That porch was almost a second home to my sister. She would sing and rock for hours on end, and on one occasion when Daddy accidentally ran over a cat in the driveway, she purt nigh drove the rest of the household crazy with mournful tunes that in essence amounted to dirges. It was also a place to watch lightning bugs as light gave way to night, to observe Independence Day fireworks, or during the day to watch birds go about their business. A pair of screech owls which raised several generations of young in a huge white oak located nearby added to the appeal, and during the summer there was always a chorus of grasshoppers, katydids, and jar flies as background music.
Porches were a place for relaxation at day's end, but they also witnessed plenty of work. Indeed, quite often work and rest went hand in hand. Sometimes a number of family members would gather to talk, but while they did so their hands were busy. The job at hand might involve stringing and breaking beans for a run of canning the next morning; shelling crowder peas or lima beans with the same end result in mind; peeling and quartering apples, either for drying or canning; working up a bushel or two of corn (shucking, scrubbing away silks, then cutting from the cob) for soup mix; cutting up okra; going through peaches beginning to go bad Mom had bought for a song to make preserves, and the like. More often than not anything that was canned included a session of porch work as part of the overall process.
Occasionally, usually on a Sunday afternoon, there would be a run of hand-churned ice cream. I don't ever recall doing this at home but it happened on periodically at the home of Grandpa Joe and Grandma Minnie, usually when a bunch of cousins from out of town visited or maybe when a lot of us got together for a family meal.
Most memorable of all for me were porch sitting sessions with no one involved except Grandpa Joe and me. Sometimes this came when we had been placed in verbal exile (that is to say, Grandma had told us, in no uncertain terms, that we needed to get out of the house). Grandpa would mutter something about "they" not wanting us underfoot (he referred to Grandma Minnie as "they" whenever she was upset, apparently think the impersonal pronoun would ease the brunt of her ready wrath—it never did) and we would retreat to the porch.
There he would take his throne, a comfortable rocking chair which now, a full 60 years later, sits nearby as I'm writing this. Before long I would have induced him to share tales of yesteryear. Grandpa was a natural, gifted storyteller and it didn't take much—just a request for a re-run of some oft-told tale such as the time he shot a "painter" (cougar)—and magic would unfold. I would sit enchanted for hours, doing little other than offering a bit of encouragement or tendering an occasional expression of rapt interest, as he relived what was clearly a rugged but exciting time in his life.
Add to that enjoyment of an icy watermelon or just resting after hours of hoeing corn, and the overall picture emerges of porches being special retreat, a tiny piece of paradise. They were the perfect place for so many things. Family gatherings, courtships, music, relaxation, rest between periods of work, enjoying the soothing movement of a rocking chair, sensing and savoring the rhythm of a gentle rain, and more. Porches were a place where you could be at peace with the world, and as singer/songwriter Tracy Lawrence suggested years ago in a country  hit, "If the World Had a Front Porch," they were a place to reduce stress, solve problems, and slow down life's often hectic pace.
—-
Tipper
Subscribe for FREE and get a daily dose of Appalachia in your inbox