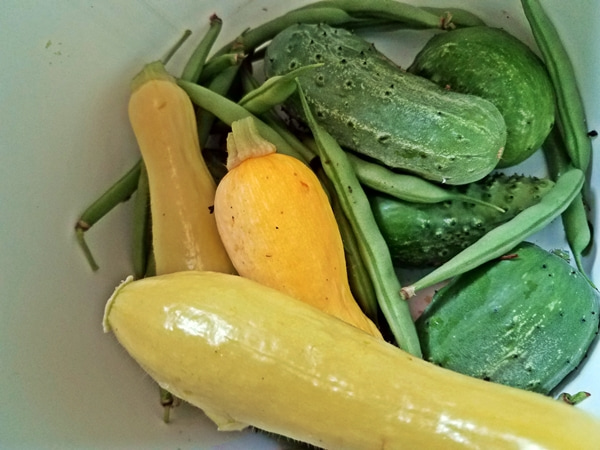 The time for putting up food has arrived. We spent Saturday afternoon in the kitchen doing just that. From here till at least the end of September we'll be preserving all the garden bounty that we've worked so hard for.
A few weeks ago Blind Pig reader Granny Sue started sharing the meals her and her husband had eaten that day at the end of her blog posts. I really like the new part of Granny Sue's blog because it's interesting to see what other folks eat on a daily basis.
Granny Sue's new feature gave me an idea. I almost always post about food on Mondays. From now till the garden is done I'll share what we put up that week. The notes will serve as a record of sorts for us and hopefully you'll find it interesting to see what we manage to preserve in the course of a summer.
I'll go back a week July 4 to help us catch up.
July 4
harvested a little over 60 heads of garlic and set them to dry
harvested a few onions-about 15-20 and set them to dry—the onions were on the small side, but they had overwintered from last year and I figured that was as big as they were going to get
made a run of pickled beets
July 11
If you've been putting up food please leave a comment and tell us about it.
Tipper
Subscribe for FREE and get a daily dose of Appalachia in your inbox