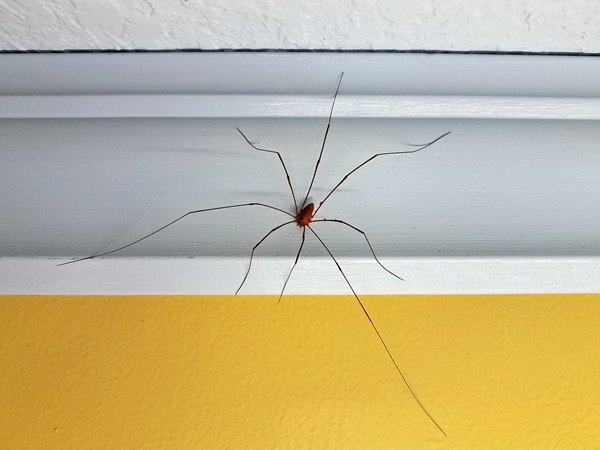 I keep finding granddaddies crawling around in the kitchen. This time of the year they congregate on the front porch and apparently this summer they decided to move in.
Granddaddies have never bothered me. I pick them up and return them to the great outdoors where they belong.
When Paul and I were kids he went through a stage of being scared of granddaddies. One time he scared Granny and me to death over a granddaddy.
Someone had either given Granny an old bedstead or else she was letting someone store one in our basement. I can't really remember the reason but there was a bedstead with stuff piled on it in the middle of the basement floor.
Paul wasn't supposed to go downstairs by himself—he was that young.
The little rat snuck down to the basement. Granny was in the kitchen and I was in my room when we heard his screams. We both took off running.
Paul was sitting in the middle of the stuff piled on the bedstead, who knows how he clambered up there, and he was screaming his head off.
When Granny finally got him calmed down he said there was a granddaddy trying to get him 🙂
Chitter was just a crawling baby when I noticed two or three granddaddy legs sticking out of her mouth. I reckon she ate the rest of him.
Frank C. Brown's collection of North Carolina Folklore has this to say about granddaddies:
7611 When ones cows have strayed from home they can be located by saying this to the granddaddy spider: "Granddaddy, Granddaddy where are my cows?" He will point one foot in the direction in which they are.
I asked Pap if he'd ever heard of a granddaddy helping you find your cows. After he quit laughing he said no he must have missed that one.
Tipper
Subscribe for FREE and get a daily dose of Appalachia in your inbox