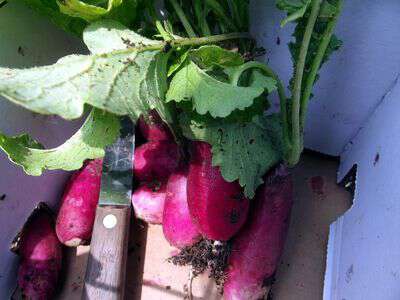 The rain we've had this past week has made my spring veggies flourish. Its amazing what a good soaking rain and some sunshine will do for your garden. I've been so very pleased with the germination and growth pattern of my Sow True Seeds (the company who is sponsoring my garden this year).
This is the first year I've grown this variety of radish-its an heirloom called French Breakfast. Somehow I got it in my mind that the radishes would be white-but actually only the bottoms of them are white.
Once I seen they really do grow up to 3 inches-I was afraid they would be tough or pithy-but even the large ones are great. This variety does have more of a bite than the Sparklers I usually grow-but that's o.k. with me.
Another Sow True Seed variety that I'm excited about is their Dwarf Grey Sugar Snap Pea. The peas are supposed to be a bush type-in other words they don't need anything to grow up-like a trellis. At first I was worried they were just going to run all over the ground-but since the rain-they have stood up straight and sturdy.
We love Black Seeded Simpson Lettuce-and the heirloom seeds provided by Sow True Seeds are growing like crazy!
Even the plants in the greenhouse seem to have benefited from the rain somehow-and are growing by leaps and bounds. All the heirloom tomatoes are coming along nicely. The puniest one out of the bunch is a variety called Arkansas Traveler-if you've grown them before-let me know how they do for you.
In between all the rain we've been able to get our new raised beds filled.
While I was out checking out the new growth brought on by the rain, I discovered the most wonderful thing-my blueberries survived the frost!
How does your garden grow?
Tipper