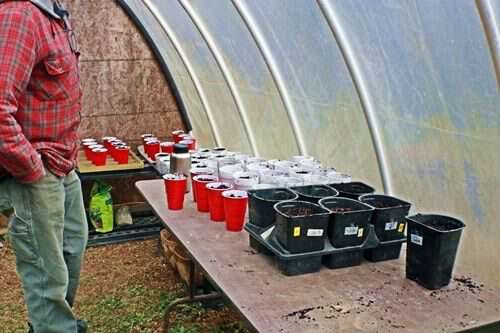 Before I started the Blind Pig and The Acorn I never knew much about planting by the signs. I had heard folks talk about it, but it wasn't something Granny and Pap ever did. The only thing they consulted the zodiac calendar for was making kraut.
They obviously believed there was something to the signs or they wouldn't have worried about their kraut.
When it came to gardening, Pap was so busy with work, music, church, and coaching baseball that he had to plant whenever he had time and the weather was cooperating.
The first year I planted by the signs I kept it simple and tried to plant in the most fruitful sign of Cancer or under the crab as I heard an elderly lady phrase it. I saw a marked increase in the success of my garden that year.
The following year, with the success of my sign planted garden fresh on my mind, I became so involved in trying to follow the exact sign that I felt like I was playing a mean game of "Mother May I." I was totally obsessed by the waxing and waning of the moon as well as trying to figure out which zodiac sign I should be planting under. My garden didn't do as well that year and I didn't have much fun either. I about drove myself crazy warring about the signs instead of just working on growing a garden.
The theory behind planting by the signs in a nutshell is: You should plant above ground crops under a fruitful sign while the moon is waxing/increasing. You should plant below ground crops under a fruitful sign while the moon is waning/decreasing.
There are 12 zodiac signs which correspond to the position of the moon during the month. Each sign is represented by a symbol, a part of the human body, and an element of nature (fire, earth, water, air) and has distinct characteristics. For example, Leo-Lion-The Heart is fiery, dry and barren. While Cancer-Crab-The Breast is watery and fruitful.
After my mother may I year of being obsessed with following the exact sign, I decided to simplify my attempt at gardening by the signs by concentrating only on the zodiac sign like I did that very first year. Over the years, I've found the signs that work best for my garden are Scorpio, Pisces, Taurus, and Cancer. Those are the days I note monthly and provide free for Blind Pig readers during the growing season.
My favorite sign to plant under is Cancer (under the crab), but if it doesn't work out to where I can plant under Cancer, I aim for Scorpio, Pisces, or Taurus.
Here's the best planting signs for April 2022.
Taurus: good for all root crops and above ground crops 2, 3, 29, 30
Cancer: best for planting above ground and root crops 7, 8
Scorpio: best for flowers and above ground crops 16, 17
Pisces: Good for planting and transplanting above ground crops, trees and shrubbery 25, 26
Last night's video: Chicken and Dumplings in Appalachia.
Tipper
Subscribe for FREE and get a daily dose of Appalachia in your inbox