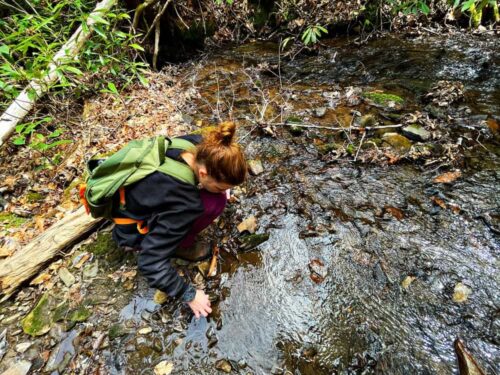 "My sister and I used to try and "hurry" the warm weather by putting on our bathing suits (unbeknownst to the adults) and going down to wade in the creek. Spring has just gotta come soon."
—Sallie Covolo aka Granny Sal – March 2013
---
When I was a girl I tried to hurry spring by begging Granny to let me wear shorts and wade in the creek. As an adult I find myself trying to hurry spring by planting things in the garden even though I know it's not really warm enough yet.
We've had some really warm days and then last weekend we had a hard freeze—both are typical for spring in Appalachia. March was the windiest I can remember, and it looks like the wind is going to blow on into April.
The wind has blowed almost constantly for over a week. The big gusts are the most impressive but even without the gusts the air is alive with movement.
Unfortunately the wind has led to several forest fires. One day this week The Deer Hunter called to say "Don't burn anything, the whole worlds on fire and there's not enough people to put it out."
I hope the wind soon lays and the fires all go out.
Last night's video: Dorie Women of the Mountains 10.
Tipper
Subscribe for FREE and get a daily dose of Appalachia in your inbox