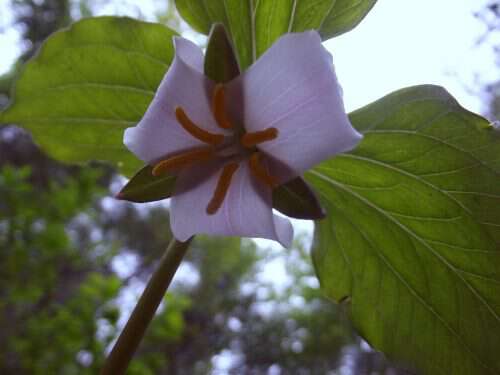 I haven't had a chance to see many wildflowers this Spring. I don't know if its because Spring came to Appalachia so early or that my life has been way too busy. Probably a bit of both. The other evening I decided I better go look for my favorite Spring wildflowers before it was too late.
Lucky for me, I don't have to go far. Out in the backyard, beyond the greenhouse, clothesline, and firepit, just a few steps up the old trail and I'm in the woods. As I looked around I saw dwarf crested Iris in full bloom, dainty white violets, and the nodding heads of Trillium.
As I laid on my back to take pictures of the Trillium I thought of their loveliness, of their hidden beauty growing there in the edge of the woods like they're too shy to bloom in the sunshine.
I've always been an avid reader. Even as a young girl I loved to read. If I found a book I liked, I'd ask the school librarian to help me find other books by the same author. I was especially fond of Scott O'Dell. I'm not sure which of his books I read first, but I know I was sad when I had read them all.
Laying in my wildflowers out back reminded me of one of his books Streams to the River, River to the Sea. The book tells a fictional story about Sacagawea-Lewis and Clark's interpreter. At some point during the story Sacagawea shares a Shoshone Legend with the men. I don't remember the exact words, but the gist of it has stayed with me all these years:
Wildflowers are the footprints of children long gone on who've come back to brighten our days.
Tipper
Appalachia Through My Eyes – A series of photographs from my life in Southern Appalachia.