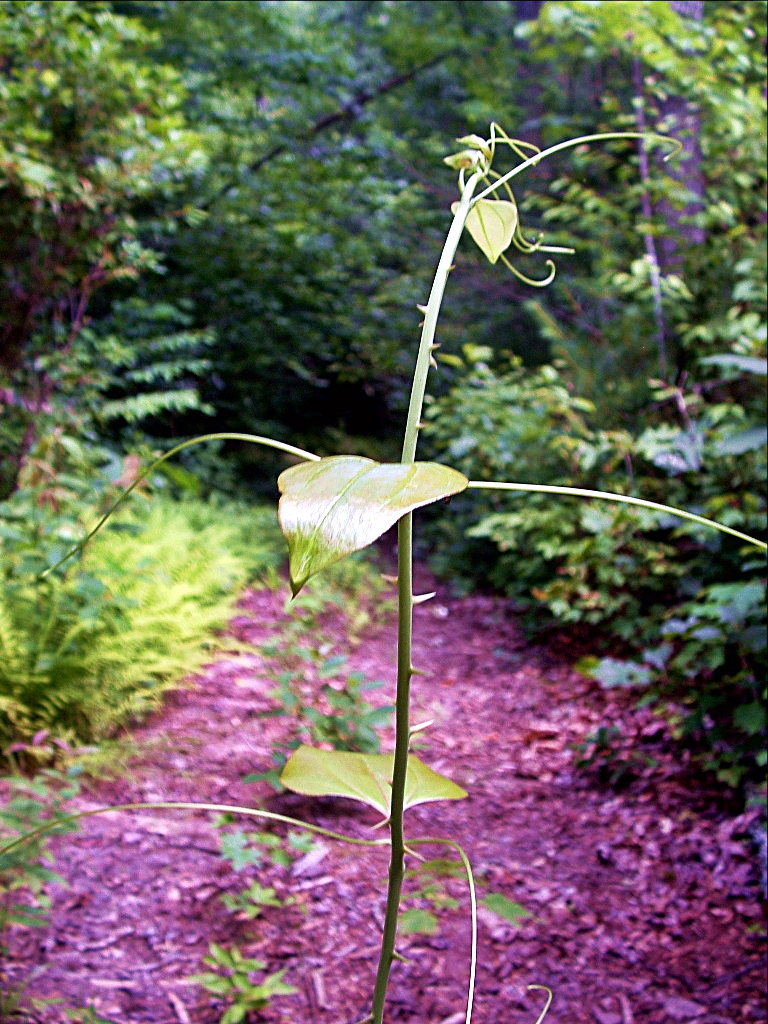 Have you ever gotten tangled up in a sawbrier? I have and let me tell you it hurts like the dickens.
I know there are scientific names like Brown Sawbriar or Woodland Sawbriar, but to me there are basically two kinds of briers: berry briers which are definitely worth fighting the serrated teeth for the sweetness they produce and sawbriers which as far as I can tell serve no purpose other than inflicting pain.
Sawbriers seem to grow over night by the feet. Sometimes they grow up up up till they can no longer support their weight of height and fall over.
Sawbriers are sneaky too.
I swear I can weed my garden one day and the next I'll be walking through admiring my work when I'm grabbed by the sharp teeth of a two foot high sawbrier  and left wondering how in the world I missed seeing it the day before.
Most everybody has heard the story of Brer Rabbit. My family was also familiar with another story related to the aggravation of briers. We were taught the fault of sawbriers lay with Adam and Eve and should serve as an important reminder not to stray from the narrow way.
Maybe I've got too much time on my hands, but lately I've been thinking about sawbriers and how they could be used to symbolize the hardscrabble life that my Appalachian ancestors lived.
Just when the fields are ripe and full with summer's harvest making you think you're living in the land of milk and honey you can walk through the bounty and be scratched by a stubborn sawbrier as a reminder trouble may be waiting just around the corner.
The same reasoning could apply to our lives today and to the lives of folks all over the world. Appalachia does not hold the reins of heartache and sorrow alone.
Those same Appalachian ancestors who endured the sawbriers of life also knew how to pull them up or at least put them on a shelf at the back of their mind and enjoy life. Sitting a spell on the front porch to watch the evening fall; hearing a fiddle tune; or simply holding a grandbaby on your lap are all good things for taking those ornery sawbriers off your mind at the end of a long hard day.
Earlier this summer as we were weeding Pap's garden one of the girls said she couldn't pull up a sawbrier cause it hurt too bad. I showed her how if you reach all the way down to the bottom of the brier right where it goes into the ground you can sometimes grab a hold right there and pull without getting stuck.
The dogged determination to enjoy life to the fullest is one of the traits that's seldom listed under the typical mumbo jumbo credited to native Appalachians, but I assure you it abounds from one end of Appalachia to the other. Pap taught us from an early age to step on the sawbriers you couldn't pull up and to look for the sunshine up above.
Tipper
This post was originally published here on the Blind Pig and The Acorn in August of 2010