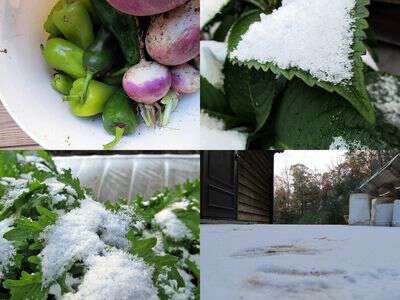 It snowed on Halloween. Although I remember a few chilly Halloweens, I don't recall it ever snowing. Most of the snow that fell throughout Appalachia over the weekend didn't technically make its appearance until after midnight which truthfully means it snowed on November 1.
According to AccuWeather.com the 5 inches of the white stuff that fell in Asheville, NC broke the record for the earliest recorded snow fall-which was November 11.
We only got a skiff of snow here in Brasstown. The back deck was white as were the steps in the yard-but most of the ground was too warm for anything to stick to. It was rather strange to see hydrangea and hosta leaves with a layer of snow laying along their green lengths.
My pepper plants finally succumbed to the cold temps and biting winds-but not before I gathered one last bucket full.
Tipper
Appalachia Through My Eyes – A series of photographs from my life in Southern Appalachia.