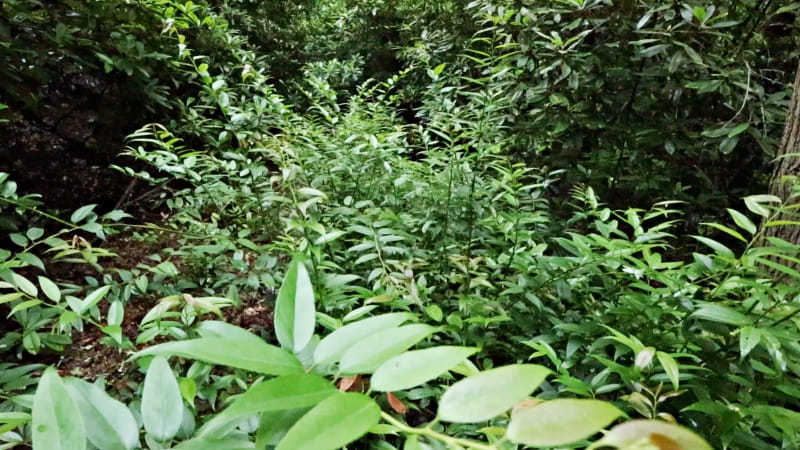 doghobble noun A common evergreen shrub (Leucothoe spp) having dense, tangled limbs and branches. [DARE labels this term "chiefly southern Appalachians"]
1926 Hunnicutt Twenty Years 124 This gave the coon a minute start and it went into the dog hobble … Dog hobble is an evergreen vine, and I began to think that she was not going to catch up with the coon at all. 1963 Lord Blue Ridge Guide 22-23D The dog hobble is the exasperation of the bear hunter and his dogs. The bear can "brute" his way through the bramble of bushes, but dogs and hunters get all hobbled up. The leaves and blossoms of dog-hobble resemble those of fetterbush, but each plant groups its own way. Fetterbush is an upright shrub; dog-hobble is low and fern-like. 2006 Ellison Nature Journal 36-37 Sometimes called drooping leucothoe, switch ivy or fetterbush, highland doghobble is one of the more common shrubs in the southern mountains, especially the Blue Ridge portions of North Carolina, Tennessee, South Carolina and Georgia … It's the arching branches that are doghobble's primary claim to fame. These often rot at their tips, creating an extensive tangle that is almost impenetrable. A black bear fleeing hunting dogs will intuitively head for a doghobble tangle situated on a steep slope, which it can easily bound through going upgrade. Pursuing dogs and hunters are quickly left behind, "doghobbled" by the rooted branches and sharp leaves.
—Dictionary of Smoky Mountain English
---
I believe the first time I ever saw a patch of doghobble was on a hike with Don Casada. He explained what it was to me and probably the only reason it stuck in my mind was that I had never seen it before even though I've tramped through the woods a lot in my lifetime.
Earlier this year as we walked in the woods near our home I was surprised to see a big ole patch of doghobble. I don't ever recall seeing it in the woods here before, but it's certainly found a home in the area I noticed it and has almost completely taken over the old road bed and bank where it lays.
Tipper
Subscribe for FREE and get a daily dose of Appalachia in your inbox