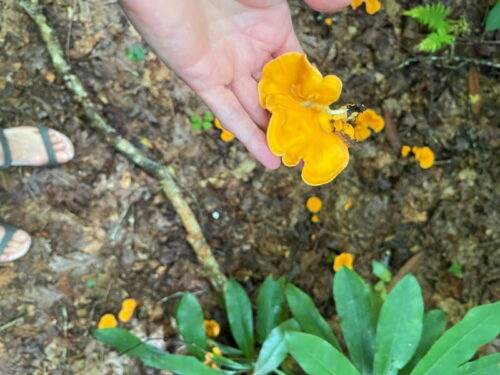 I spent yesterday morning learning how to identify and find chanterelle mushrooms. A friend invited me to go with her and her girls last year but it never worked out. When she invited me again last week I decided to make it a priority to tag along and learn.
Several years ago I helped a friend at the Folk School find them on one of the trails there, but I didn't really pay attention or learn what to look for—she pointed and I harvested 🙂
Yesterday we went to an area just down the road from my house and immediately begin to find the little orange delicacies. Knowing my house is between the Folk School and the place we were at I just knew they'd be in our holler too.
When I got home I took a quick look in the woods on one side of the house, but didn't really see anything. I knew I had to take Granny to the doctor so I decided I'd look more later in the day.
As I prepared the chanterelles from the morning hunt for supper Chitter came in and said "Is that what they look like? I know where a whole bunch of those are at the creek."
Sure enough after supper she took me to the creek where there were chanterelles growing. A little after that The Deer Hunter said "Those are growing out my trail in the back of the house too."
So it seem I have an ample supply of chanterelles right here at home and I'm just tickled to death!
I sautéed the ones we harvested in butter and garlic and they were so good! I found a recipe that suggested cooking them by themselves in a cast iron pan with no oil so that the moisture in them could cook out and evaporate before adding butter and garlic.
If you have tips on cooking chanterelles please share!
Tipper
Subscribe for FREE and get a daily dose of Appalachia in your inbox