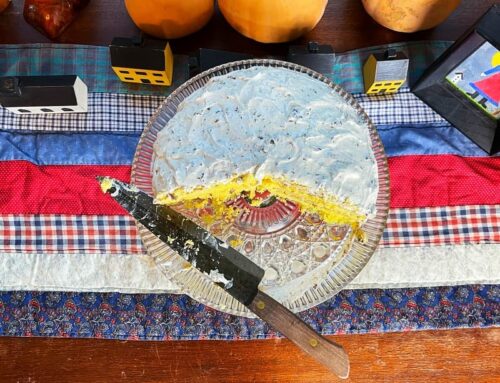 I've been hearing folks talk about raisin cakes made by their mother or grandmother for years, but never had the recipe myself, nor even tasted the cake.
Back in December Kathy Gautier said she would share her family's recipe with me so that I could try the cake. Over the weekend I finally found time to try it and I'm glad I did.
Here's the directions Kathy sent me.
Raisin Frosting

2 egg whites
3/4 cup sugar
1/4 teaspoon cream of tartar
1/3 cup light corn syrup
2 tablespoon water
1/4 teaspoon salt
1 teaspoon vanilla
1 cup ground raisins

In the top of a double boiler combine egg whites, sugar, cream of tartar, corn syrup, water, and salt. Cook over rapidly boiling water, heating while beating with mixer until mixture stands in peaks. Remove from heat, add vanilla and raisins. Beat until thick enough to spread. I soaked my raisins in hot water for about 15 minutes before I ground them up in my mini food processor. You may also add ½ cup marshmallow cream from a jar for a stiffer firmer frosting.

Basic 1-2-3-4 Layer Cake

1 cup butter, at room temperature (2 sticks)
2 cups granulated sugar
4 large eggs, at room temperature
3 cups all-purpose flour
1 tablespoon baking powder
1 cup milk
1 teaspoon vanilla extract
Preheat oven to 350 degrees. Coat three 9 inch layer cake pans with baking spray and with flour. In the bowl of stand mixer, beat the softened butter at medium speed, gradually adding sugar til the mixture is light and fluffy, about 4 minutes. Mix eggs, one at a time into the butter mixture. In a separate bowl, sift together the flour and baking powder. Add the flour mixture to the butter mixture, about one cup at a time, adding in milk after each cup, alternating. Mix until just combined and add in vanilla extract. Divide the batter evenly between the layer cake pans and bake for approximately 20-25 minutes, testing to see if done as ovens differ in baking times, or until a toothpick inserted into the center of the cake comes out clean. Allow cake layers to cool 20 minutes before frosting.
---
The cake turned out so good! I first tried soaking my raisins like Kathy did, but that didn't work for me. I think my raisins were so plump and moist they didn't need to be soaked. I fed the first batch to my chickens and then tried chopping up raisins straight from the bag. That worked much better. I was concerned that the raisins didn't seem to be cutting up in a regular fashion, they sort of chopped up and then came together in a blob. I likely ran them too long in my food processor, but once I added them to the icing and beat well with my mixer they incorporated just fine. I didn't add marshmallow cream but I bet that would be good.
I like raisins, but wondered how I would like their flavor on a cake. The frosting doesn't overly taste like raisins, it just tastes good.
We finally got to celebrate Christmas with Granny, Paul, and the rest of the bunch over the weekend. So I made a two layer raisin cake for the occasion and since I couldn't wait to taste it I frosted the other layer for us to eat on Saturday night. I think the cake would have been even prettier if I had been able to resist eating part of it and had made the cake three layers high.
Have you ever had raisin cake?
---
Last night's video: Selling Rocks in Appalachia – A Millennial's Dream | Part 2.
Tipper
Subscribe for FREE and get a daily dose of Appalachia in your inbox