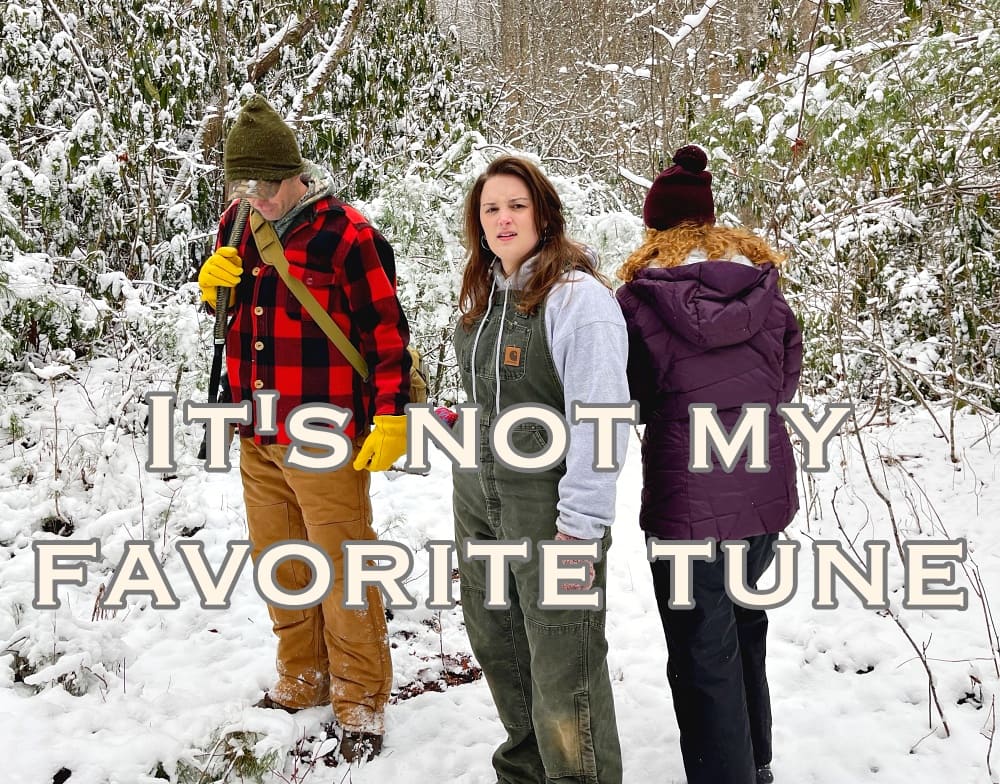 During our recent snow the girls filmed themselves doing one of Chitter's old original fiddle tunes "Snow Day."
It was one of the first fiddle tunes I remember her writing. Paul and I both adore it and think it's one of her best, but she has never liked it as much as we do.
Over the years we have videod it several times. Although a quick search told me I've never shared it on Blind Pig & The Acorn.
Here's the original upload back in 2014. You can see how young the girls are 🙂 If I remember right they were out of school for a snow day when Chitter named the song.
Here'e another video Paul uploaded last February of the song—but the video is from about four years prior to that.
Somewhere along the way one of us found a man from Sweden playing the song on a banjo. That was especially thrilling for Chitter—knowing someone you've never met likes your song enough to learn it is quite the feather in your cap.
I really love the words he put in the video description: "Snow day by The Pressley Girls on Clawhammer Banjo Original folk music from the appalachian." That makes me smile 🙂
Here's the most recent version that was filmed in the snow we got last week.
Chitter still isn't crazy about the fiddle tune, even though we all love it. The tune has such a happy feel to it and it's a ball of fun to play.
It's funny how creators become enamored by certain creations and not others. It reminds me of how I feel about posts I write or videos I make. Some I can't for the life of me understand why anyone on the face of the earth likes them. While other times I share something I think I really knocked it out of the park on but the creation doesn't get much fan fare. It also reminds me of something Pap used to tell us.
We'd be fussing about not wanting to play a song because we didn't like it or we were tired of playing it. He'd always say if you're performing it ain't all about you. Do you want to play something you like or something the audience likes?"
Maybe I need to remind Chitter of Pap's advice since we all love the tune even though she doesn't 🙂
Tipper
Subscribe for FREE and get a daily dose of Appalachia in your inbox