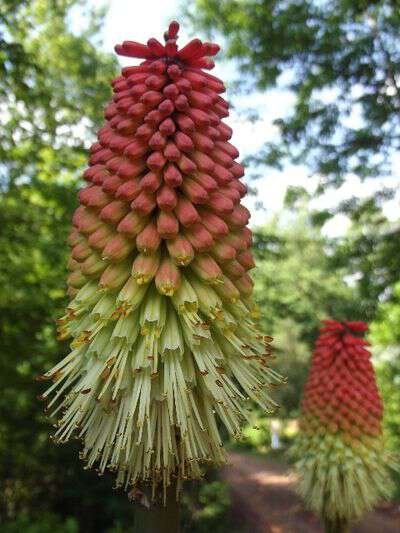 Do you ever talk to your plants? Or do your plants ever talk to you? I know at least one of you have talking plants because B.Ruth left this comment on Sunday:
Tipper, As I was transplanting some periwinkles this early afternoon, I saw my Red Hot Pokers sending up stalks like crazy. I immediately thought of those by the silo near Murphy, and you and our picture game, and then of course Pap and wondering how he was feeling and improving by this Sunday afternoon…It was almost like they were garnering my attention AND saying to me, "Remember Murphy and your friends there, and send up another prayer for Pap"! As yesterday evening they were very short, barely noticeable! Yes, I believe plants talk to us in their way! I have never had so many stalks before…but I could only think of you and your family in Brasstown and of course Pap… Thinking of you tonight and hoping things are going well! Love you guys, B.Ruth
I have a friend who swears the ferns on her porch are so pretty because she whispers sweet nothings to them. She even claims the ferns love her so much that they call her name as she walks by.
I've heard one of my aunts refer to plants as 'him' or 'her' – example: "I planted him last summer just look at the blooms on him this year."
Chatter and I were walking back from Pap's about dusky dark last night when I pointed out our neat rows of bean seed that had suddenly sprung from the ground. They look like tiny green soldiers reaching into the sky already aspiring to reach the wire hanging above them. Chatter said "Oh my little ones grow good now." Chatter loves those little green ones because she helped plant them and because she knows the bountiful goodness they will produce for us as summer comes on.
Pap is home. I cannot begin to express the love Blind Pig Readers have sent sailing our way. And I cannot begin to express how thankful I am and how humbled Pap and I are that you'd go out of your way to pray and care for him-for me-for us all.
In the wind up-Pap suffered a bad fall which left 2 fractures in his left hip and a heart attack brought on by the pain from the accident. He's slowly recovering and with the love you've spread his way I have no doubt but that he'll continue to improve.
Tipper