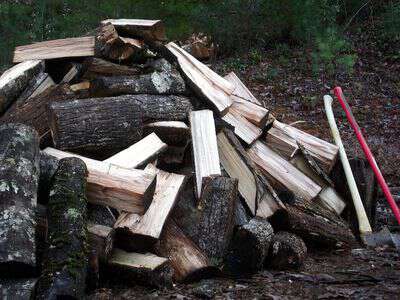 The Farmer's Almanac predicted this would be a harsh winter-and so far it seems they've been right. Parts of the country barely get dug out before the next winter storm arrives on their doorstep.
We've lived in our house a little over 13 years. In the beginning, we heated with a combination of a kerosene monitor heater upstairs and a wood stove downstairs. After we'd been here several years and were able to afford a heat pump, The Deer Hunter helped one of his buddies install one. Mostly we wanted the pump for the air conditioning it could provide during the summer months, however when heating oil began to rise to unheard of prices it became cheaper to use the heat pump for heat and forgo the monitor heater.
Over the years, we got slack about using the wood stove in the basement. After all-unless you buy the wood-it takes much effort and time to lay in a supply of wood for the winter. It only took the economic downturn to light the proverbial fire under The Deer Hunter to get him back to laying in that supply of wood. For the past 2 winters we've returned to using the wood stove in the basement for heat-makes us both wonder why in the world we let it sit cold for those few years.
Our stove is a dandy-it came from Papaw Tony's basement-it was there when Papaw and The Deer Hunter moved in during the late 80's. It was handmade by a talented craftsman.
The stove heats wonderfully-and after The Deer Hunter banks the fire and turns the dampers down-it always holds coals for the next morning.
Everyone has preferences when it comes to what kind of wood they like to burn. I'm sure it makes a difference depending on where you live as well. The Deer Hunter likes good seasoned oak and locust the best. But will mix in other woods-like maple and popular. The one he doesn't like to use much-is pine-cause it is more likely to build up creosote in your chimney.
My favorite thing about using the wood stove: we have wood floors and a type of tile in the bathrooms-I love that it heats the floors from below-and my piggies have a warm floor to walk on.
Do you burn wood?
Tipper