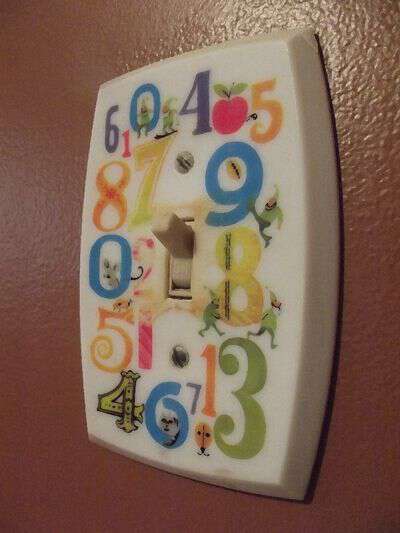 I was in head start when we moved into the house Pap built. I think my room was pink in the beginning-then it was yellow-then purple-then finally a tan color. Even though the wall color changed during the years I slept in the room-the light switch cover didn't until I reached adulthood.
Just before I met The Deer Hunter, I painted the room a light tan color. It was then I noticed the old number light switch cover-I mean how could numbers go with my new mature look I was working on? So I politely unscrewed my Elves and their friends and went down the hallway-where I took Granny and Pap's beige light switch cover and gave the Elves a new home.
Once I left home for good, Granny turned my old room into her sewing bedroom.
Years later, after I was a married mother of twin banshees, I was down at Granny's looking for something in the back bedroom when I noticed the light switch cover was the one from my childhood days.
I was up the hill in a flash. In no time flat I had the old cover switched with the beige one from my baby girls' bedroom-and there it's been through the various colors of their room. It started as builders beige, then there was yellow, then there was the years of orange/green combination (the first time I let them choose the color-yikes!), then a soft green, and as recent as this summer-a chocolaty rust color.
I told you all that to ask you:
Do you cut the light on or turn it on/cut the light out or turn it off? And do you pay the light bill, electric bill, or the power bill?
I cut the light on/off and I always pay my light bill-even though I wish I didn't have too.
Tipper