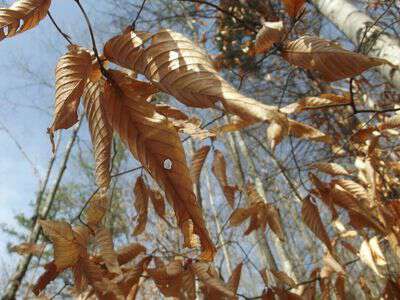 This time of the year Beech trees are easy to spot in the woods. Their leaves from last summer are still hanging on even though Spring and new growth is just around the corner. The papery tanish goldish leaves stand out in the open woods like left over Christmas decorations.
Beech trees grow throughout the eastern portion of the US-from Canada to Florida and can grow as high as 80 feet. Beech trees have tiny flowers in spring, I've never seen them, but I'm hoping to this year.
Beech trees are noted for their smooth bark and for their nuts. I've never tasted a Beech nut but have heard older folks say the nut is sweet and in days gone by was a treat they enjoyed in the fall of the year.
The Frank C. Brown Collection Of NC Folklore says Beech trees are never struck by lightning and will in fact protect you from lightning.
Tipper
Appalachia Through My Eyes – A series of photographs from my life in Southern Appalachia.