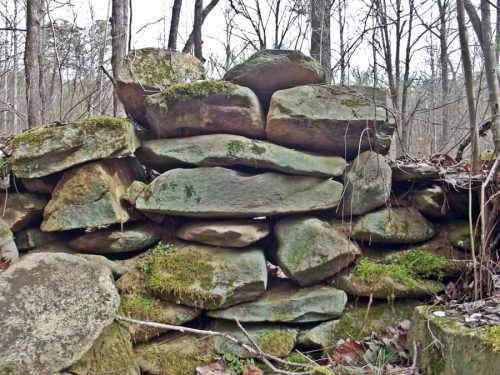 "There was a sight of rocks where we grew a garden. Poppa had us stack them along the edges of the field. Over time we made a fence around the whole garden to help keep the animals out."
—-
sight See also heap sight, one more, sight in the world.
A noun A large number , a great deal or amount.
1913 Kephart Our Sthn High 296 Many common English words are used in peculiar sense by the mountain folk, as . . . a power or sight for much. 1937 Hall Coll. Big Creek NC Indian physic tea is good to clean your stomach off. Good blood medicine. Lord, I've drunk a sight of it. (Zilphie Sutton) ibid. Upper Crosby Creek TN A sight of people died of the fever on this branch twenty-five or thirty years ago. [It] began when loggin' started, when the stumps soured. (Veenie Ramsey) 1939 Hall Coll. Gatlinburg TN People in Elkmont had a sight of fruit (i.e., apples) to sell in the fall. (Lee Reagan) c1950 (in 2000 Oakley Roamin Man 45) About that time I hurd a chicken cacklin and the old ruster begin to crow and all the takin on I never heard the like, the hens must of laid a wonderful site of eggs. 1953 Hall Coll. Gatlinburg TN they cut a sight of timber out of there. (Sara Cole) c1959 Weals Hillbilly Dict 7 It takes a sight o'money to eat well. 1997 Montgomery Coll. Jim grew a sight of taters. (Brown).
Dictionary of Smoky Mountain English
—-
Using sight to indicate a large amount of something is still common in my area of Appalachia. And it's one of those usages that I can't imagine talking without.
Tipper
Subscribe for FREE and get a daily dose of Appalachia in your inbox