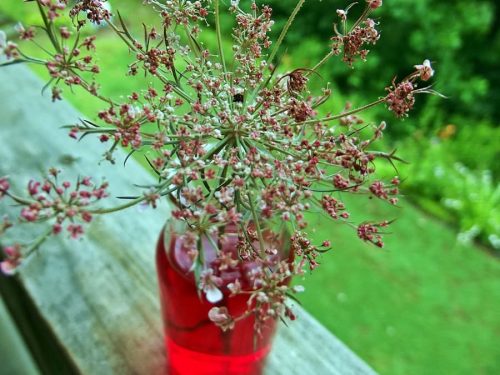 Queen Anne's Lace dots the roadsides and fields with white where I live. According to legend, Queen Anne was tatting lace when she pricked her finger and left a dot of blood in the center of the lace which is the dark spot that can be seen on some of the flowers.
I always associate Queen Anne's Lace with chiggers. I swear when I was little Granny told me to never touch them or I'd get chiggers all over me.
Queen Anne's Lace are a pretty addition to any summertime bouquet. You can easily change the color of the blooms by placing a few drops of food coloring in water and letting the flower stand in the water over night.
As the flower 'drinks' the water the blooms began to change color. This is a neat activity to do with kids.
The girls used to love to go out and pick Queen Anne's Lace and they equally loved getting to make a mess with my food coloring and a jar of water. The resulting colors varied, but they were always pretty.
Tipper
Subscribe for FREE and get a daily dose of Appalachia in your inbox