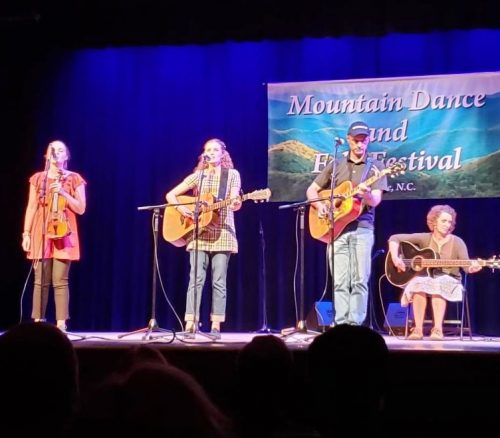 We had a great time playing at the 2019 Mountain Dance and Folk Festival last weekend. Everyone treated us nice and it was great to play on the big stage at Lipinsky Hall.
Paul graduated from UNCA back in the day so he liked being back on his old stomping grounds. As we waited downstairs for our turn to play he told us stories about his college days, one of which happened just down the hall from the room we were in.
It was a music class and the teacher gave the assignment to play or sing a piece of music and then discuss the piece.
The music class was one of the required credits for the degree program Paul was in, which wasn't music related. Paul never told anyone in the class, nor the teacher, that he was a guitar player.
Finally the day for Paul's presentation arrived. He set in front of the class and played this song. He said once he was finished the teacher said "Well now. You just never know." 🙂
We played right before intermission at Mountain Dance and Folk Festival. Once we left the stage and put our instruments up we headed to the lobby to stand at the table where the girls were selling cds.
I got to meet Maggie, the lady who was responsible for us being invited to be part of the show.
Maggie took a class at the Folk School and heard the girls singing during Morning Song.
Nana was standing there talking to someone when she suddenly saw Maggie and they started talking. I was sort of shocked. I said "Do you know each other?" Turns out they're first cousins!
Months ago when Maggie called to inquire about the girls being part of this year's Mountain Dance and Folk Festival she had no idea that she was asking about her cousin's grandchildren. Talk about a small world-how cool is that!
Tipper
p.s. There was an issue with my hosting company yesterday and my post failed to send out. If you'd like to go back and read the post go here: A Sight Of 
Subscribe for FREE and get a daily dose of Appalachia in your inbox