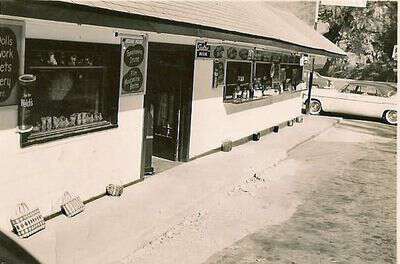 Don Casada dug up some old photos of the restaurant we were discussing earlier this week-you know the place that serves some of the best cheesburgers in Western NC – Na-Bers. The photos show the original Na-Bers (Neighbors) as well as the Riverside Grill which was what Neighbors started out as before it became Neighbors.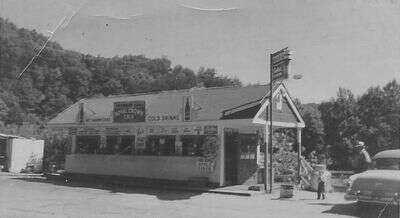 Seems like I wasn't the only one who had memories of Na-bers. Check out these comments:
Stephen Ammons said:
Hi Tipper. Thanks for the memories of the late night trips to Na-Bers drive in. We would go on friday night after football games and other times to eat and hang out with friends. Do you remember the peacocks they had and would it make you jump when one of them would scream? The only thing I can think of that was better than their burger was a burger that you could buy at Partons gas and grocery just west of Bryson City. It was before microwaves and if I am not mistaken they ware called Stewart sandwiches and you heated them in a toaster oven. They had one that was plain except for butter and chopped onion and I think I think I could have eaten my own weight in them. The only thing that even comes close are those artery clogging White Castle mini cheese burgers. Thanks again for the memories.
———————
Don Casada said:
Of course Na-bers is the best. Back before you were in the incubator, it was located about a mile further up the river just before the US19 bridge. If you drove from Brasstown to Canton back in those days, you'd not have gotten off the 4-lane to go there – you'd have driven right by it (after driving through downtown Andrews and downtown Bryson City). Maybe some of your other readers with Swain County roots will remember, but I don't think it was Na-bers back then – I think it was Neighbors. It was perched almost out over the water. There wasn't enough room between it and the road to park vehicles perpendicular to the road – you had to park sigogglin or slantwise. There was also a Sinclair gas station right next to it and a little gift shop. Ginger Black's folks ran it and lived there for awhile. It burned down sometime in the early 60s and was relocated to its current location by Jim Sneed, who also owned Sneed's Restaurant in downtown Bryson City. Somewhere, I've got a photo or two of the old place. I'd bet Pap would remember it.
———————
Jim Casada said:
Tipper–I bet you didn't know that the Na-Bers you have patronized is the "new" Na-Bers. The burger joint was originally located just below the bridge which is on up old Highway 19 a mile or mile and a half. There's a little tourist pull out and (I think) picnic table there now. Not only did you have the drive-in, next door Roy Beard had a little six or eight unit motel. Both the motel and the drive-in almost literally hung out over the Tuckasegee. Every time I drive by there I wonder who there was room for either one of them, but in my high school days that's where Na-Bers was located. Then, as now, they had wonderful burgers.
———————
Charles Fletcher said:
Tipper, Every time we traveled back and forth on old i9-23 We had to stop at that place. But not for a hamburger But for the best hotdog in the world. There was no passing by coming or going. Don't know if it is still there because-we By –pass it on the new roads.
———————
Annette Casada Hensley said:
Ah, the original Neighbors and the "new" Na-Bers have wonderful food and atmosphere. Miss the peacocks. Once I heard the peacocks, I knew where the jungle sounds used in the old Tarzan movies came from! Brother Don can do a really good imitation of their sound. One has to know that their food is great for them to have survived all these years competing with all the newer fast food chains! My favorite is their double cheeseburger but also love their chuckwagon steak sandwich!
———————
Ken Roper said:
Tipper, I've been to the Na-bors Drive in many times, both places. The newest one has the big parking lot, but I just love their Sliced Pork Barbeques with slaw and tomato. And I use to get a Small bottled Coke to go with mine. (you can't get those little bity dopes just anywhere.) A black headed waitress girl, Betty Green use to sit with me and my girls if she wasn't too busy. I'm already cravin' another barbeque.
———————
Kathy said:
Good Lord!! I hadn't thought about that place in years and years. You are right. Their food was out of this world! I used to stop there with my first husband – us being from across the line in Monroe County (TN) and gas being like a quarter a gallon, riding the mountains was our way of having fun. Later on, after he & I had gone our separate ways and I had married again – this time to a guy to whom the mountains were a foreign experience, when we would visit the folks back in TN (and before all the super-highways linking east TN & the Piedmont of NC) I took him to Na-bers when we were out that way. Thanks for refreshing the memories.
———————
Susie Swanson said:
Oh my goodness, I'm glad you posted this. I love Nabers. They have the best cheeseburger and any other stuff I've ever eat. We've stopped by that place so many times. Me and my husband used to stop by there when we first got married. We were traveling back to Fort Bragg most of the time and we just had have a burger before we left the mountains..lol. That's been almost 44 years ago. Thanks so much.
———————
Miss Cindy said:
I remember Na-Bers. When the Deer Hunter was a little fella and we used to go to the lake, Fontana Lake. Passing through Bryson City we often stopped at Na-Bers for one of those great hamburgers.
—————————————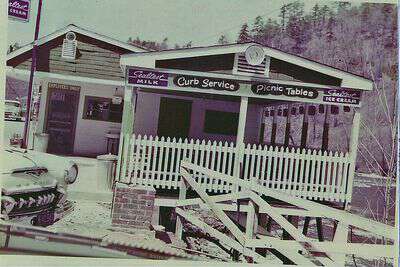 Now after reading all those memories of Na-Bers, you're probably like me and wondering what was up with the peacocks? Turns out the drive-in burger joint had real live peacocks back in the day.
Tipper