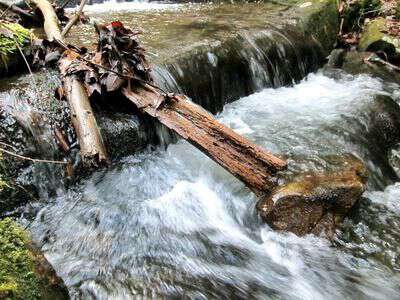 "As you will recall, my story was about my Daddy's attempt to dig a well by our house, his disappointments along the way and finally his response to that frustration.
He did find good water but we had to move on up the river valley to find it. At the house we left, there was no practical way to get through the bedrock on that hillside above the Holston River, even if he could have afforded someone to drill a well for us, which he couldn't. His divining fork dowsing had found water on that hillside in our front yard but it was not an aquifer, just the underground runoff down the inner slope of the mountainside.
We moved away to an old farmstead that had the most wonderful water in a good spring with a springhouse built over it. Mom even had a hand pump right at her kitchen sink, as city water was several years away yet. I suspect only a few of your readers remember kitchen sinks that had a hand pump for "running water" but it sure beat having to carry water and getting my britchie legs soaked from the splashing out.
And, we never had to want for water again and Dad and Mom made us a good, happy home, beholding to nobody else's whims, mendicants no more."
David
—-
So it turns out there was a happy water ending to the story—even if it didn't come from the well David's father blew up. That's how it goes in life: sometimes good things come from events that didn't turnout the way we wanted them to.
Tipper
Subscribe for FREE and get a daily dose of Appalachia in your inbox