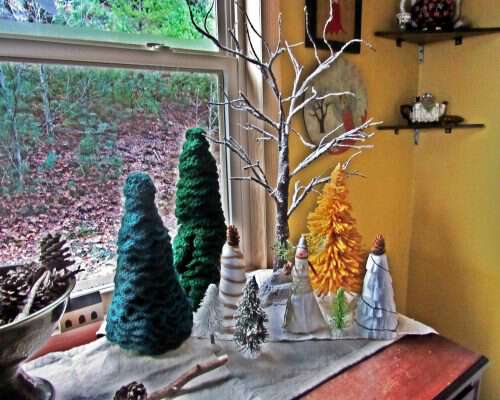 1. I like to do my Spring cleaning right after Christmas. As soon as I start taking down the decorations I have an urge to clean up and clean out. Since a new year is about to start it seems like an appropriate time to deep clean and sort items. Once Spring arrives I'm way to interested in the garden to worry about cleaning inside the house. Although it is cathartic to clean the house from top to bottom and get rid of things we no longer need or use,  putting away the sparkle of Christmas always leaves me feeling a little lonesome. This year I left a winter treescape in the kitchen to hold onto the good spirit of Christmas just a little bit longer.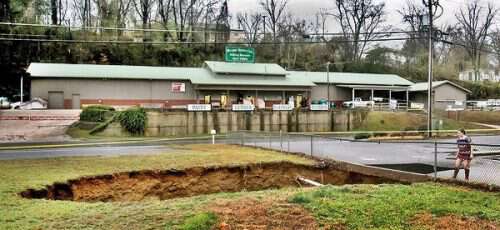 Photo from the Cherokee Scout
2. The rainy season continued right through Christmas in Cherokee County. I read somewhere we had over 12 inches of rain during the month of December whereas last year we had about 3. The heavy rains would have been bad enough, but added to the already saturated ground it was just too much. Lots of folks had their houses flooded, not to mention the damage done to driveways and roads across the region. Then sink holes started showing up in Murphy and Andrews. Most of the sinkholes in Murphy are along the 4 lane by McDonalds leading out towards TN. Pap said there's a creek that runs through the affected area, but as businesses built along the highway over the years most of the creek was relegated to flowing underground through culverts and pipes. He can remember the creek meandering along back when fast food joints didn't even exist.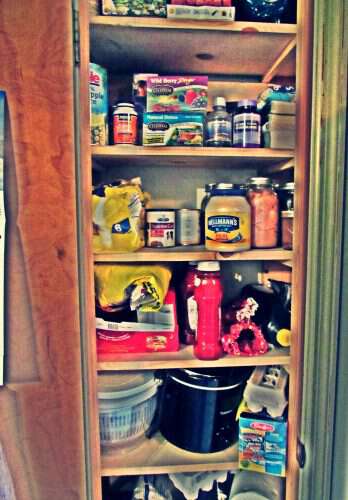 3. If you really want something…its worth waiting for it. My pantry has always been there, but somehow the shelves never appeared during the 20 years we've lived here…until recently. I'm in love with my pantry shelves. Sometimes I go in the kitchen just so I can open the door and stare at them.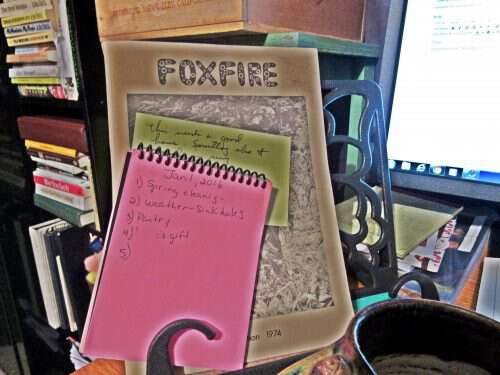 4. Sometimes the best gifts are the ones you didn't know you needed. My friend gifted me the metal cookbook stand you see in the photo. I thought it would be useful in the kitchen-and I like useful things so I was pleased with the gift. My computer desk is nothing more than a small table. Thirty-six inches from one end to the other. If I want to quote something from a book I typically lay it in my lap and try to transpose the words from book to screen by looking down in my lap and up to the screen-down and up down and up. The first time I needed to quote from a book over Christmas I remembered the stand and decided to see if it would fit on the corner of my desk and hold the book I was typing from. It worked perfectly. I've probably used it a dozen times already and every time I use it I wonder why I didn't think of the book holder myself. Ever heard the old saying – handier than a pocket on a shirt? Well my book stand is handier than a pocket on a shirt.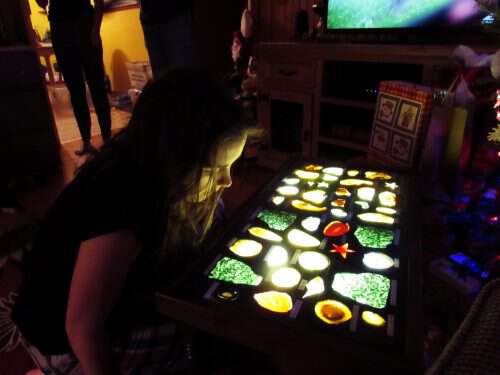 5. Sometimes gifts are free and so magical you can't really describe them. A magic table full of rocks waited patiently for decades for a lovely Angel to find it and give it to a mother who loves the history  of her community so that the mother could then give it to her daughter who loves rocks so much that she can't go anywhere without picking them up and filling her pockets to overflowing. Yep sometimes gifts are free and so magical you can't really describe them.
Tipper